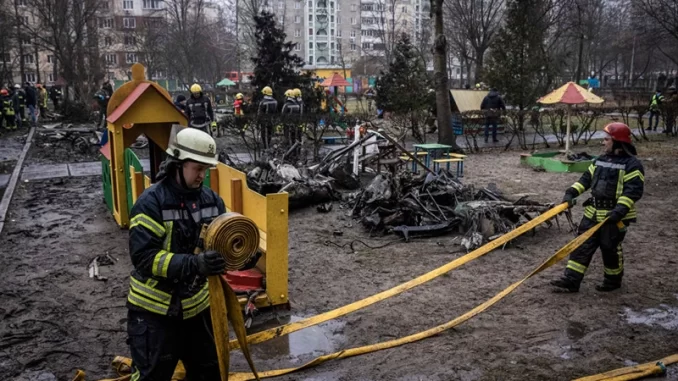 OAN Roy Francis
UPDATED 7:30 AM PT – Wednesday, January 18, 2023
The top three figures in Ukraine's Interior Ministry were killed in a helicopter crash on Wednesday morning.
Interior Minister Denys Monastursky, his First Deputy Minister Yevhen Yenin, and State Secretary Yurii Lubkovich were killed in a helicopter crash, marking the highest profile Ukrainian death since the war with Russia began.
The helicopter had gone down in an eastern suburb of the capital Kyiv, near a kindergarten building early Wednesday morning. A total of 14 people died, including one child on the ground, and all nine people on board the helicopter, and had injured 25 others.
Authorities say there is no indication that the crash was anything other than an accident. However, SBU State Security Service is investigating several possible causes including sabotage, a technical malfunction, or a breach of flight rules.
Ukrainian officials are routinely flown by helicopter throughout the country at tree level, which comes with high risks.
Residents say that when the helicopter went down, the city had no electricity, and the heavy fog throughout the city had decreased visibility and increased flight risks.
Witnesses said that the pilot tried to avoid a high-rise building moments before the crash, and then the helicopter had gone down near the kindergarten building.
Monastursky was one of President Volodymyr Zelenskyy's longest serving political advisers. Reports say that the Interior Minister had been travelling to a war "hot spot" when his helicopter went down.
The Interior Minister was a prominent member of President Zelenskyy's cabinet and his death is a setback for the Ukrainian government.
Monasturksy had the vital task of maintaining security and running the police force during the war, as well as advising the president on certain security matters.
The Minister had been a familiar figure for the Ukrainian public as well, as he had been the figure to update the country on casualties ever since the war had begun.
President Zelenskyy is set to address the World Economic Forum later on Wednesday, he has recently appealed to the West to provide Ukraine with tanks to be able to respond to any Russian possible offensive.