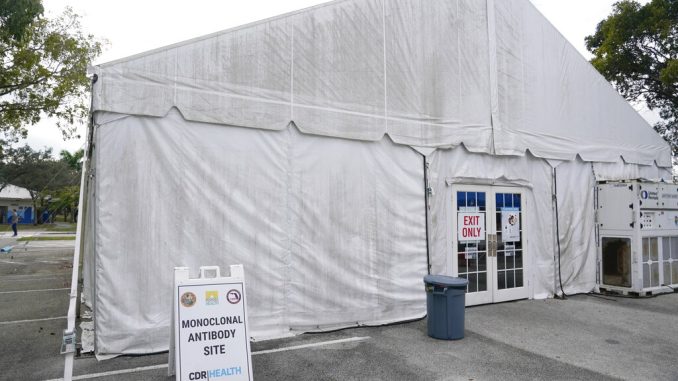 OAN Newsroom
UPDATED 9:32 AM PT – Wednesday, January 26, 2022
Florida Governor Ron DeSantis has vowed to fight back against the Biden administration after authorization was revoked for two antibody coronavirus treatments. The Republican slammed the decision at a press conference Tuesday as federal regulators pulled Regeneron and Eli Lily treatments on Monday.
Due to their decision, the Florida Department of Health announced it would be closing all of its monoclonal antibody treatment sites until further notice.
"Early this morning, thousands of Floridians woke up to news that their appointments to get treatment for COVID-19 infections were canceled by the Biden administration, which revoked, outright revoked authorization for two very popular monoclonal antibody treatments that the state of Florida really pioneered over the summer," explained the governor. "And that we've worked hard to make available to our residents who needed treatment."
Floridians have benefited from the state's treatment sites and their access to treatment shouldn't be denied based on the whims of a floundering president. https://t.co/Y5nmAV1LCs

— Ron DeSantis (@GovRonDeSantis) January 25, 2022
The Food and Drug Administration said the decision was due to the treatments being "highly unlikely to be active against the Omicron variant." However, DeSantis said the drug is still effective and that he believes there's a different reason behind the decision.
"They had months and months and months to stock pile this, and they chose not to do it," he stated. "So I think part of it is, I think there's politics involved…I just think they don't have enough treatments to go around and I think they realize that. And I think it would look very bad to be able to admit that, so instead they're saying this is revoked."
The Florida governor said they are going "above and beyond" to deny people access. Meanwhile, the FDA said the drugs could be reauthorized for use if they prove to be effective against future variants.
"We're going to fight back against this because this is just wrong," said DeSantis. "This is not the way that you help people. And our view is people have a right to access these treatments, and to revoke it on this basis is just fundamentally wrong and we're going to fight back."