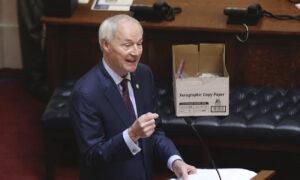 On Monday, Arkansas Gov. Asa Hutchinson, a Republican, allowed a bill that prevents government agencies from training employees on divisive concepts of race and sex to become law without his signature.
The law S.B. 627 prohibits agencies from teaching employees, contractors, or any other group "divisive concepts" during racial and cultural sensitivity training. These concepts include teaching employees that the United States is fundamentally racist or sexist, or that one race or sex is inherently superior to another race or sex.
The measure was introduced as an effort to push back on "critical race theory," which is a doctrine that redefines America's history by claiming the nation was built through the struggle between "oppressors" (white people) and the "oppressed" (everybody else). The doctrine parallels Marxism's reduction of human history to a struggle between the "bourgeoisie" and the "proletariat."
It has also been heavily promulgated throughout academia, entertainment, government, schools, and corporations in recent years and rose to new prominence following activism triggered by the police-involved death of George Floyd.
In a statement to the Associated Press, Hutchinson explained that he didn't sign the bill because he believes the measure "does not address any problem that exists."
"And the paperwork and manpower requirements are unnecessary," he added.
Hutchinson's press office did not immediately respond to The Epoch Times' request for comment.
The law does not apply to public schools, colleges, and universities, law enforcement training, or local governments. It also states that agencies are not precluded from promoting racial, cultural, or ethnic diversity or inclusiveness as long as those efforts are consistent with the law.
This comes as a line of Republican-led states are considering or have passed measures that prevent the instruction of critical race theory in schools. The Oklahoma state legislature voted to pass a similar bill last week. Meanwhile, lawmakers in a Tennessee House Committee have sent a proposal preventing critical race theory instruction in classrooms to the House floor.
In one of his first executive actions in the White House, President Joe Biden rescinded his predecessor's ban of critical race theory in federal workplaces. Former President Donald Trump's September 2020 executive order declared that diversity and inclusion training for federal employees should not promote "un-American" and "divisive concepts."
Biden instead issued an executive order stating that the federal government must pursue "a comprehensive approach to advancing equity for all."
The Biden administration has also promoted the doctrine in its policies. For example, the Department of Education has newly announced a proposed priority criteria for a $5.3 million American History and Civics Education grant that will prioritize education programs incorporating the ideas of the New York Times' 1619 Project and critical race theorist Ibram X. Kendi into their teaching.
"The proposed priority would support projects that incorporate culturally and linguistically responsive learning environments," the administration said.
In a letter (pdf) to Education Secretary Miguel Cardona, Reps. Doug Lamborn (R-Colo.) and Jeff Duncan (R-S.C.) said they have "deep concern" for the new proposal.
"Students should learn about the uniqueness and greatness of the American systems and the challenges we have overcome as a nation," the letter reads in part. "It is therefore counterproductive and even dangerous to allow our vulnerable school children to be taught the falsehoods prevalent in the 1619 Project or in Ibram X. Kendi's 'How to Be an Anti-Racist.'"
Isabel Van Brugen and Petr Svab contributed to this report.