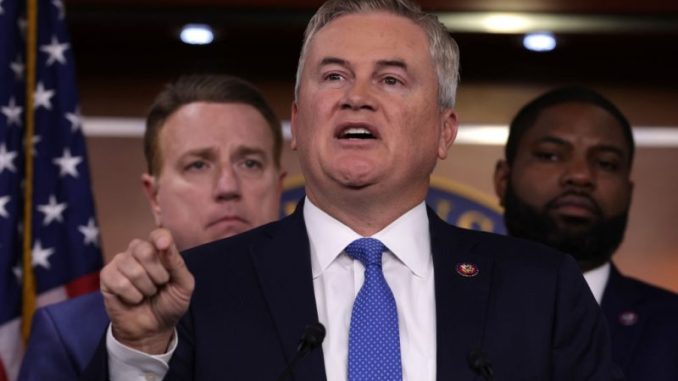 OAN Geraldyn Berry
UPDATED 12:26 PM PT – Monday, January 16, 2023
House Oversight Committee Chairman James Comer has promised to keep being insistent in getting answers about the classified documents found in President Joe Biden home from his vice presidency.
This comes as according to the White House Counsel's office, there are no visitor logs that document visitors' arrivals and departures at the Biden's residence in Wilmington, Delaware.
"The American people deserve transparency, not secrecy," Comer said. "We will continue to press the Biden Administration for answers about who had access to these classified documents and why Biden aides were permitted to rummage through the Wilmington residence after the appointment of a special counsel."
On Friday, the House Judiciary Committee,led by Rep. Jim Jordan, (R-Ohio) announced that it had opened an investigation into the documents. In addition, Robert Hur, the appointment of a special counsel, was appointed by Attorney General Merrick Garland to oversee the investigation.
House Republicans had demanded that the White House disclose all information on the classified documents, including the visitor logs.
Comer (R-Ky.) sent a letter to White House Chief of Staff Ron Klain on Sunday. He requested the visitor records as the Justice Department and House Republicans look into Biden's handling of secret information during his time serving in the Obama administration.
"Given the serious national security implications, the White House must provide the Wilmington residence's visitor log," Comer wrote.
The spokesperson added that while a detail is assigned to the home, background checks are done to all those who come in contact with the Biden's. However, it does not maintain records of those visitors.
This is in adjacent to their statement that Biden had "restored the norm and tradition of keeping White House visitors' logs, including publishing them regularly, after the previous administration ended them."
In November, Biden's attorneys discovered a "small number" of records inside the office at the Penn Biden Center think tank. They informed the U.S. National Archives of their discovery and turned over the materials.
On Saturday, the White House said additional pages marked classified from the Obama administration were found at Biden's Wilmington residence, in addition to the two batches that were previously disclosed earlier in the week at Biden's temporary office at the University of Pennsylvania.