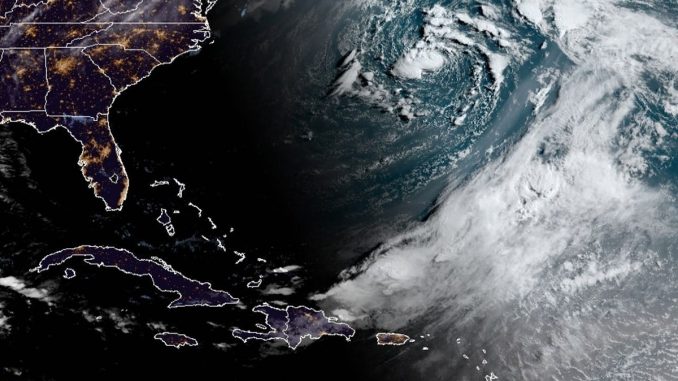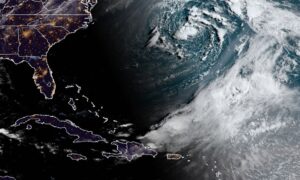 ORLANDO, Fla.—Subtropical Storm Ana formed in the Atlantic Ocean near Bermuda on Saturday morning becoming the first named system of the 2021 Atlantic hurricane season 10 days before its official start.
The National Hurricane Center's 11 a.m. advisory shows Ana located about 175 miles northeast of the island with sustained winds of 45 mph and moving west at 3 mph.
"The system is considered a subtropical cyclone rather than a tropical cyclone since it is still entangled with an upper-level low as evident in water vapor satellite images, but it does have some tropical characteristics as well," said NHC senior hurricane specialist John Cangialosi.
The Bermuda Weather Service has discontinued the tropical storm watched issues earlier this morning.
Tropical-storm-force winds extend out for 205 miles.
"A continued slow and erratic motion is expected through tonight, followed by a faster northeastward motion on Sunday and Monday," Cangialosi said. "Little change in strength is forecast today, but gradual weakening is expected tonight and Sunday. Ana is expected to dissipate in a couple of days."
The storm is no threat to Florida.
Forecasters have been predicting the formation of Ana for a good part of the week, but also began tracking a system in the Gulf of Mexico on Friday that looked like it might beat the Bermuda system to the punch for the season's first name.
That well-defined low pressure area, though, moved inland over the Texas coast as of 8 a.m., so the NHC no longer predicts it will form into a tropical system. Forecasters, though, warn the system will still bring heavy rainfall over parts of southeast Texas and southwest Louisiana.
"Given the complete saturation of soils with ongoing river flooding along the Texas and Louisiana coastal areas, heavy rain could lead to flash, urban, and additional riverine flooding across this region," Cangialosi said.
The 2021 hurricane season runs from June 1-Nov. 30. The 2020 season saw a record 30 named storms, and also featured two named systems that formed before the official start of the season.
The National Oceanic and Atmospheric Administration released its predictions this week for the year, and while still forecast for an above-average hurricane season, its numbers do not approach the highs seen in 2020.
For 2021, the NOAA predicts 13-20 named storms, of which six to 10 would gain hurricane strength, and of those three to five would become major hurricanes, Category 3 or higher.
By Richard Tribou
Orlando Sentinel
©2021 Orlando Sentinel. Visit orlandosentinel.com. Distributed by Tribune Content Agency, LLC.