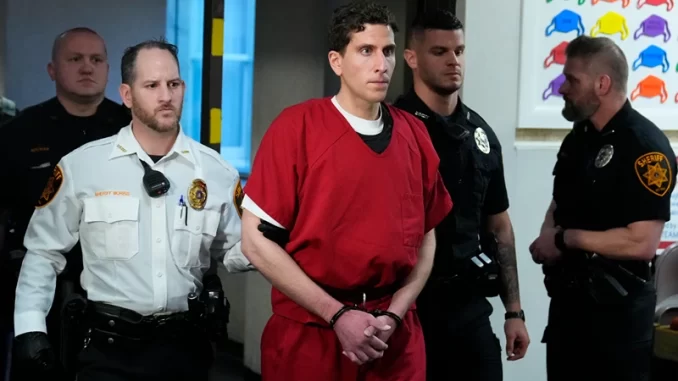 OAN Annyatama Bhowmik
UPDATED 7:22 PM PT – Tuesday, January 3, 2023
Idaho quadruple murder suspect Bryan Kohberger waived his extradition hearing in court on Tuesday and will be returned across the country in the following ten days.
Kohberger is a PhD student in the Criminal Justice and Criminology Department at Washington State University. The 28-year-old, wore handcuffs and a red jumpsuit as he was escorted by police into a Monroe County Court.
He will now be returned to Moscow, Idaho, to face murder charges for the deaths of University of Idaho students Kaylee Goncalves, Ethan Chapin, Xana Kernodle and Madison Mogen. Kohberger was arrested Friday in Pennsylvania, almost seven weeks after the murder.
Kohberger responded to multiple questions from the judge throughout the hearing and stated that he did not have any mental health issues. In addition, Kohberger stated that he understood what it meant to waive extradition before signing the waiver.
Shortly after, Pennsylvania State Police conducted a news conference where they made their first public comments regarding the matter. According to Latah County Prosecutor Bill Thompson, the sealed probable cause document outlining his alleged crimes won't be released until after he returns to Idaho and is served with the arrest warrant.
The Pennsylvania State Police Commissioner Robert Evanchick voiced his grief for the victims as plans were being made to transfer Kohberger to Idaho.
"My heart goes out to the families of the victims, their friends, the community of Moscow and the University of Idaho," Evanchick said. "No words can heal the pain associated with the loss of a child. Their young lives were ended far too soon."
Kohberger's attorney, Jason LaBar, told NBC in an interview that Kohberger was "shocked a little bit," on the charges on him. He iterated that the suspect has been "very easy to talk to," is "in a calm demeanor" and understands the proceedings, including what to expect concerning his transport to Idaho and when he gets there. According to LaBar, the accused killer "believes he's going to be exonerated."
The Warden of the Monroe County Correctional Facility corroborated Kohberger's supposed "good behavior" with saying that Kohberger had been a "model prisoner" since his capture.