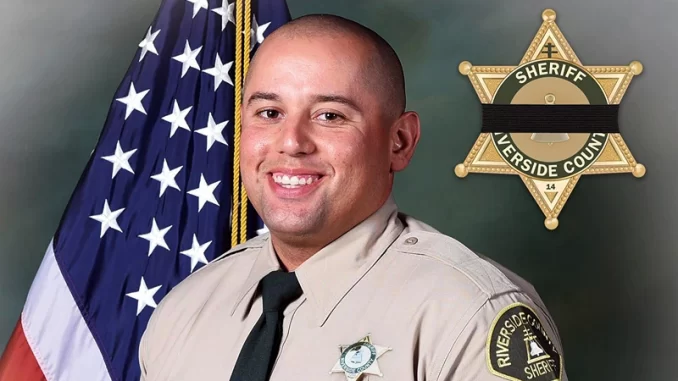 OAN Geraldyn Berry
UPDATED 2:31 PM PT – Friday, December 30, 2022
Riverside County Sheriff's Department Deputy Isaiah Cordero was shot dead in Jurupa Valley on Thursday.
The 32-year-old was conducting a traffic stop near the 3900 block of Golden West Avenue when the suspect drew a revolver and shot him as he approached the vehicle.
A witness had called 911 as the gunman fled. This led to a manhunt that spanned two counties.
Sources say that it is unclear why Cordero had pulled over McKay. The deputy's body camera footage is still under review.
Sheriff Chad Bianco stated at a news conference on Thursday night that the shooter, 44-year-old William Shae McKay, was a violent felon who should have been imprisoned in accordance with California's "three strikes" legislation after a recent conviction, but was freed on bail while his case was ongoing. McKay's criminal history dated back to the 1990s and included kidnapping, robbery, and multiple assaults with deadly weapons.
"This terrible tragedy should have been prevented by the legal system," Bianco said. "McKay has an extensive, violent past and was convicted of his third strike in November of 2021."
Bianco claimed that the shooter fired at the pursuing deputies, causing them to retaliate and eventually killing him. According to people familiar with the investigation, more than ten officers started firing during the gunfight.
Cordero was rushed to the Riverside Community Hospital, where he was pronounced dead.
Following the incident, the Riverside Sheriffs' Association issued the following statement.
"Deputy Cordero's death leaves a tremendous hole in the hearts of so many people who had the chance to know him personally," the group said. "Today, [he] made the ultimate sacrifice in the line of duty — a debt that can never be repaid. Our heart goes out to his family, friends, and fellow deputies through this difficult time."
The deputy's coffin was rolled through rows of saluting law enforcement officers and into a hearse outside the hospital by deputies. An American flag was flying off a fire department ladder truck as Cordero's body was escorted by sheriff's cars to the county coroner's office.