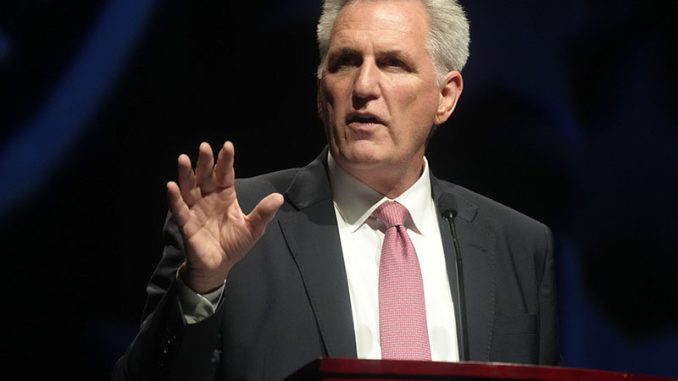 OAN Roy Francis
UPDATED 3:56 PM PT – Friday, December 30, 2022
House Republican Leader Kevin McCarthy has offered a key concession in his fight to be the new Speaker of the House.
McCarthy (R-Calif.) told his critics that he would reduce the threshold required to force a floor vote on ousting the sitting Speaker, Nancy Pelosi (D-Calif.). As it stands now, the majority of the House GOP is required to call for the motion to vacate the Speaker's chair. The California Republican has said that he is willing to drop that number down to five.
While this might be a drastic change, some of his harshest critics say that five is still too high of a number. Rep. Matt Gaetz (R-Fla.) and Ralph Norman (R-S.C.) say that the five-person threshold is still too high. Norman said that he wants the number down to two or less, while Gaetz wants it down to one.
McCarthy has stated before that he would not budge on this issue, but is now backtracking on his previous stance. The Republican hopes that this move might be the key to gaining the votes he needs to secure the speakership.
This is a big step in favor of McCarthy, however, he still faces major holdouts and opposition in his party for his bid to be the next Speaker, as well as doubts about his ability to secure the votes needed.
The vote is set to take place on January 3rd for the new House Speaker.