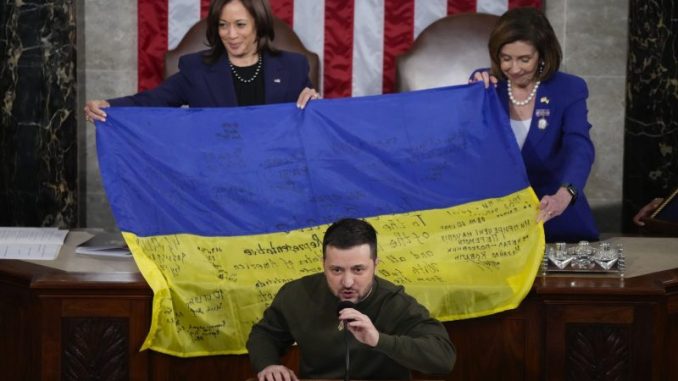 OAN Annyatama Bhowmik
UPDATED 11:03 AM PT – Thursday, December 22, 2022
Ukraine's President Volodymyr Zelenskyy, was welcomed to the House chamber. While there, the Ukrainian president made a speech where he received countless cheers and multiple standing ovations from lawmakers. He began his speech before the Congress by thanking the United States for helping Ukraine in its fight against Russia.
In his address to Congress, Zelenskyy rejected "Russian Tyranny." He brutally criticized Iran for supporting Russia's conflict with Ukraine. The president accused Iran of sending deadly drones to Russia, which he claims has become a threat to their infrastructures.
"That is how one terrorist has found the other," Zelenskyy added. "It is just a matter of time when they will strike against your other allies, if we do not stop them now. We must do it."
Zelenskyy stated that by all available means necessary, Kremlin forces are being sent to attack Ukrainian cities. The president described how every inch of his land is soaked in blood. He also compared the current scenario to the World War II.
The Ukrainian president explained to lawmakers that American aid is not a charity but rather an investment in International Security.
"Your money is not charity, it's an investment in the global security and democracy that we handle in the most responsible way," the president said.
Zelenskyy also went on to describe the "pathetic" and "devastating" image that is likely to be seen this festive season. He stated that most people will be forced to have candle light dinners, not because its more romantic, but due to lack of electricity. He also mentioned how most people in his country will not have running water or heat.
The Ukrainian president, who used to be an entertainer, used his comic skills and made a joke about the Russian president.
"We (will) develop strong security guarantees for our country and for entire Europe and the world together with you," he said. "And also, together with you will put-in place everyone who will defy freedom — Putin."
At the end of his speech, he handed a Ukrainian flag to the Speaker of the House Nancy Pelosi (D-Calif.) He described the flag as a symbol of victory of this war. He was then given an American flag by the Speaker. She claimed that the particular flag had been flown over the Capitol earlier that day in recognition of his visit.
All throughout his speech, Zelenskyy emphasized that U.S. and Ukraine are in this fight together. This statement was applauded by many.
"It gives me great pleasure to share our first joint victory: We defeated Russia in the minds of the world."
Members of the Ukrainian diaspora listened to Zelenskyy's address while sitting in the visitor's gallery above the House floor. They cheered, "God Bless America!"