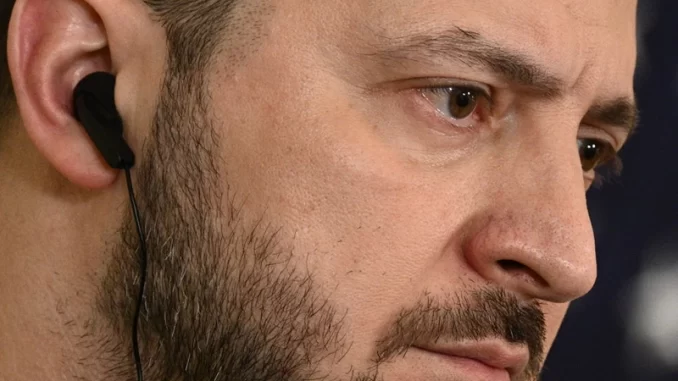 OAN Geri Berry
UPDATED 12:03 AM PT – Thursday, December 22, 2022
Ukrainian President Volodymyr Zelenskyy's surprise visit to the United States drew strong criticism from many Republican figures, notably Donald Trump Jr. and Rep. Marjorie Taylor Greene.
On Wednesday, officials announced Zelenskyy's highly secretive visit to the United States. This visit marked his first overseas trip since the start of the Ukraine-Russia War.
According to a senior administration official, the purpose of Zelenskyy's trip was to discuss enhanced support from the United States by obtaining the Patriot missile defense system.
The Ukrainian president received audible cheers and visible support during his speech to Congress.
Following his address, Zelenskyy gave the Ukrainian flag to House Speaker Nancy Pelosi (D-Calif.). The flag had been signed by Ukrainian soldiers on the front lines in Bakhmut. As a gift, Zelenskyy was then given a U.S. flag by Pelosi, who claimed it had been flown over the Capitol on Wednesday in recognition of his visit.
"We stand. We fight," Zelenskyy said. "And we will win because we stand united: Ukraine, America and the entire free world."
During his speech, a few Republican lawmakers and congresswomen were less than impressed by the president and chose not to participate in the cheers.
Two Republican lawmakers, Lauren Boebert (R-Colo.) and Matt Gaetz (R-Fla.), who were seated next to each other, decided not to applaud the guest speaker.
Boebert sympathized with what Ukraine was going through. However, she remarked that there must be an eye kept on where the American money is going. She expressed that she would vote for more money to be sent to the country but that it required a thorough assessment of all U.S. military assistance given to Ukraine.
"Sadly, what I didn't hear tonight was a clear explanation of where the first $50 billion we sent to support their efforts went," Boebert said. "Until Congress receives a full audit on where our money has already gone, I will not support sending additional money to this war."
Far-right Republicans have resisted U.S. aid worth billions being handed to Ukraine to aid in its conflict with Russia, claiming it is unnecessary. There are fears about the cost-prohibitive war and its disruption of the world's food and energy sources.
In addition to the $19 billion in aid already sent to Ukraine, Biden had announced a $2 billion aid package which includes Patriot missiles.
While the United States will supply and train Ukraine, Biden said in a news conference that the U.S. will stay with Ukraine "as long as it takes" as the country enters what promises to be a brutal winter of war. Biden has emphasized that American forces would not be directly involved in the conflict.
GOP leaders have accused the Biden administration of not having the correct priority regarding Americans' interests.