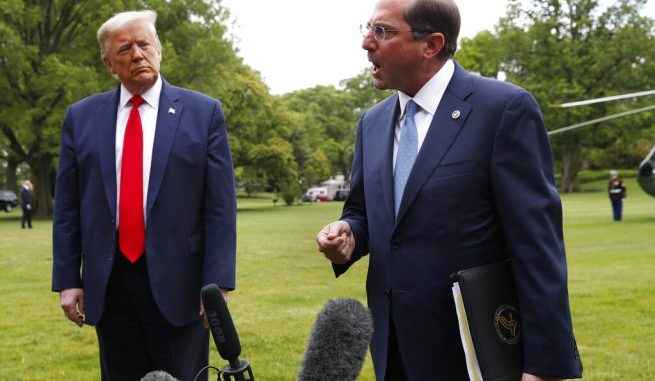 OAN Newsroom
UPDATED 10:00 AM PT — Sunday, May 17, 2020
Health and Human Services Secretary Alex Azar has defended the number of coronavirus related deaths in America by saying we are ahead of the curve. On Sunday, he suggested the results of the U.S. pandemic response could have been vastly worse.
He noted America is ahead of the rest of the world's reported mortality rates.
According to the secretary, gauging the number of ICU beds and ventilators in use will be a good way to determine when it is safe to reopen.
"While the burden has been tragic and terrible, it has remained within our health care system's capacity. As the president said, we haven't had any individuals, to our knowledge, who had to die because they didn't have a ventilator or they didn't have an ICU bed. That's a really important measure of health care system resilience." – Alex Azar, Health and Human Services Secretary
He has also said there should not be a "one size fits all" approach to reopening the nation, but stressed the country must get back up and running soon.
During a recent interview, Azar reiterated the president is leaving it up to states to best know their local situation. He added the federal government is there to provide expertise and support.
The secretary stated the U.S. is in a position to reopen thanks to President Trump's response efforts, along with the the collaborative work of governors and heroic health care workers on the front lines of the pandemic.
He stressed reopening is a "matter of public health."
"It's not the health versus the economy, it's actually health versus health. There are serious health consequences to keeping us shut down, whether it's the suicidality rates, cardiac procedures not being received, cancer screenings, pediatric vaccinations declining. All of these are critical health needs that are part of reopening the economy." – Alex Azar, Health and Human Services Secretary
According to Azar, there have been no coronavirus deaths in "almost half" of the reporting counties in the nation.