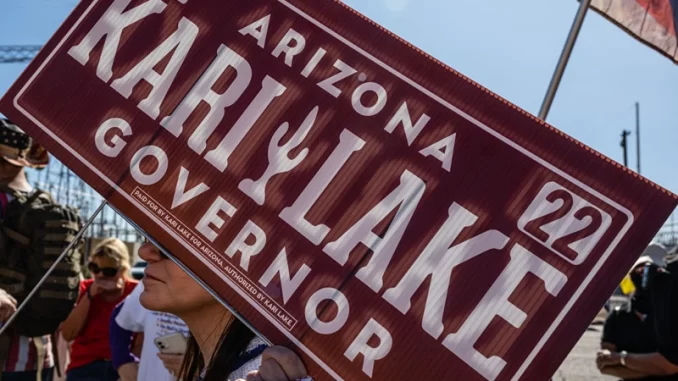 OAN Newsroom
UPDATED 4:41 PM PT – Monday, December 19, 2022
Kari Lake spoke at Turning Point USA's AMFEST on Sunday and said, "as a woman in my 50's I am going to take on corruption in our elections."
The Republican gubernatorial candidate claimed she thought about walking away but that would be "the cowardly thing to do right now." She stated that her case is the "strongest election lawsuit this country has ever put forth" and if need be she would "take it to the Supreme Court if necessary." This was followed by the crowd chanting "Kari" and "USA."
The lawsuit filed by Lake asked for a recount on the votes in Maricopa County. It is desired that the judge will name Lake as winner over Hobbs or to hold a new election entirely. In it, is a claim that there were issues with the election equipment and there were "hundreds of thousands of illegal ballots infected the election in Maricopa County."
The County admitted that there were printer issues that day, but had no negative effects on anyone casting their ballots.
A Superior Court judge in Maricopa County granted a petition from the Republican that allowed for the inspection of election ballots. The petition permitted Lake's campaign to inspect 150 ballots as long as the lawyers do not copy or take pictures of the documents.
The second annual AMERICAFEST (AMFEST) was hosted by Turning Point USA at the Phoenix Convention Center. This event is geared toward young Conservative students ages 16 through 26 but welcomes all ages.
"This four-day event is set to be the largest celebration of our constitutional rights and freedoms – featuring the best and brightest speakers in the country," written on the website's homepage.
In addition to the gubernatorial candidate, some additional speakers were Tucker Carlson, Donald Trump Jr, Steve Bannon, Speaker Newt Gingrich (R-Ga.) and U.S. Representative Lauren Boebert (R-Co.). The event included musical guests such as Chase Rice and Riley Green.
During AMFEST, Lake also called on the crowd for action and support. Following her statement "you do not steal our vote and get away with it" she continued by asking the viewers to "pray" for their legal team and the judge working on the case. She encouraged everyone to read the suit for themselves.