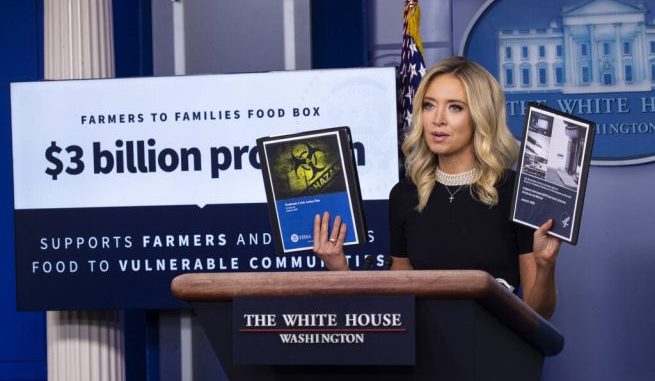 OAN Newsroom
UPDATED 2:05 PM PT — Saturday, May 16, 2020
White House Press Secretary Kayleigh McEnany has fired back against critics of the Trump administration's response to COVID-19. On Friday, she addressed claims the Obama administration was better prepared for a pandemic than the president.
In comparing plans inherited from the previous administration to those used by President Trump's team, the press secretary highlighted the sparse nature of Obama's playbook.
"Some have erroneously suggested that the Trump administration threw out the pandemic response playbook left by the Obama-Biden administration," explained McEnany. "What the critics fail to note, however, is that this thin packet of paper was replaced by two detailed, robust pandemic response reports commissioned by the Trump administration."
She went on to say the president's efforts to develop pandemic preparedness plans, which she claimed began before the existence of COVID-19, were known to the world.
The press secretary contrasted Obama's 69-page handbook, which she called a "thin packet of paper," with the Trump administration's own pandemic preparedness plans, which she claimed are significantly more robust.
McEnany also pointed to a large scale outbreak response simulation, which was carried out by the Trump administration in 2019.
"From August 13th to the 16th, the Trump administration conducted the Crimson Contagion 2019 functional exercise," she said. "This was a pandemic stimulation to test the nation's ability to respond to a large scale outbreak.
According to the press secretary, the current administration was then able to identify errors inherent to the Obama playbook. Despite these omissions, the previous administration's playbook has been much touted by left-wing voices, who claimed it was a comprehensive plan that ought to have been followed in response to the emergence of COVID-19.
"This exercise expounded upon, exposed rather, the shortcomings in legacy planning documents, which informed President Trump's coronavirus response beginning as early as January," stated McEnany. "Those legacy planning document shortcomings were, in fact, the papers that I just handed over, that were provided to us by the Obama-Biden administration."
McEnany concluded by saying the president's pre-pandemic planning far outpaced the efforts of the previous administration.
"The Trump playbook in the whole of America response to this pandemic has far exceeded what this administration inherited," she added.
MORE NEWS: White House Press Secy. McEnany: Democrat-Backed $3T Relief Bill 'Unacceptable'