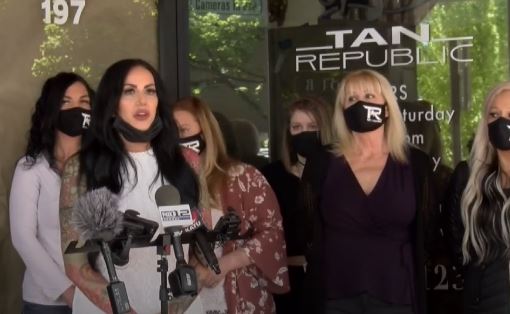 OAN Newsroom
UPDATED 1:34 PM PT — Saturday, May 16, 2020
An Oregon beauty salon owner is facing a $14,000 fine for reopening her business. Lindsey Graham, the owner of Glamour Salon in Salem, reportedly received the fee for defying lockdown orders, which have forced non-essential businesses to remain closed.
She claimed the move was out of a desperate attempt to provide for her family.
"I am being threatened, intimidated and bullied daily by the government. I'm very sad that this is the world we live in. I'm vowing to stay open as long as I can until the government basically tries to take my entire career, something I've worked 15 years, out from under me." – Lindsey Graham, Glamour Salon owner
The salon owner stated she's going to fight the penalties and, in the meantime, is planning to continue serving customers and providing for her family.
She has argued the fee does not apply because she has independent contractors, not employees, working at her salon.
MORE NEWS: Texas AG Ken Paxton Intervenes In Case Regarding Jailed Salon Owner, Says It's 'Outrageous'