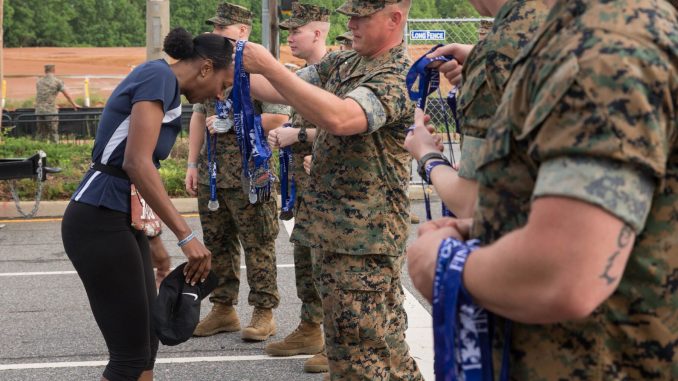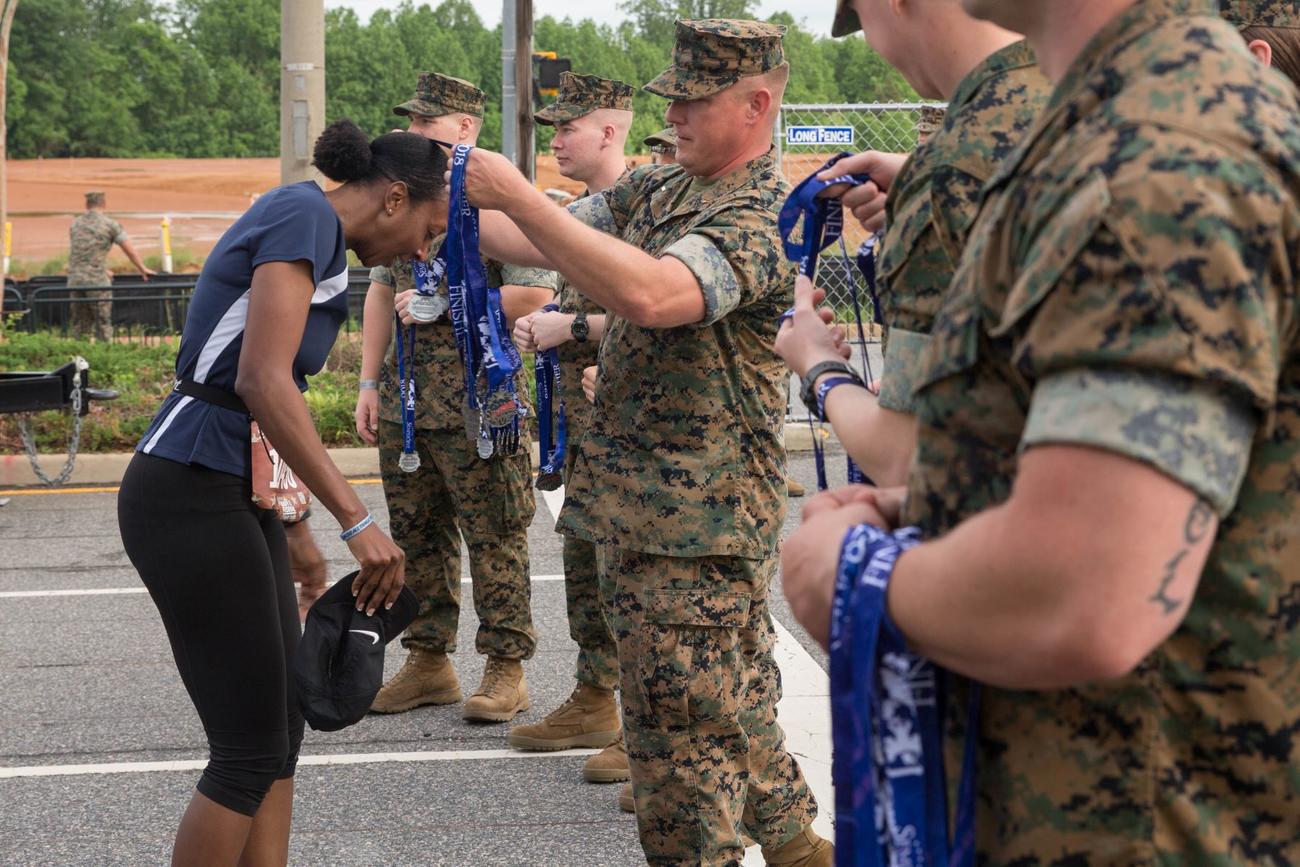 Between now and May 21, thousands of runners will log 13.1 miles on their preferred fitness app and upload virtual entries in a most unusual Marine Corps Historic Half.
Ken Kunze might be the only one to do so with a pocketful of Japanese yen.
When Kunze, a Marine Major, received orders to Okinawa this past November, he quickly penciled in mid-May as the time frame for his first trip home to Stafford. Besides celebrating his wife Tanya's birthday on May 14, Kunze was eager for the chance to run the Historic Half with sons Collin, 15, and Cole, 9.
For the past two years, Kunze's professional duties as a communications officer precluded his participation in the race. Instead, he'd wake up around 3 a.m. to set up the media hospitality tent and coordinate with 10 to 15 Marines scattered throughout the course taking photographs. This year, however, he was more or less free to be a runner — and a dad.
"I was really looking forward to that being my first trip home, seeing the family for the first time and then grabbing my boys and watching them leave me in the dust around mile 1," Kunze said.
"We used to run every day until he left," echoed Collin. "That was a big bonding thing for us. I was looking forward to being able to run with him and beat him at it."
Their shared anticipation eroded as the coronavirus pandemic crept across the globe. Then the Department of Defense issued a "stop-move" order, prohibiting non-emergency travel for military members until at least June 30. Even if Kunze somehow secured an exemption, mandatory 14-day quarantines on both ends of the trip made the plan unworkable.
"It was really a buildup of difficult conversations," Kunze said. "We saw the writing on the wall."
In a sea of disappointment, father and son fished out a silver lining; while they couldn't run in the same place — or even on the same continent — they could still technically run the same race.
Kunze would plot his course along the wall spanning the South China Sea, while Collin would fuse together his various routes throughout their North Stafford neighborhood. (Due to his age, Cole would've needed a waiver from the race director to enter this year's Historic Half).
Okinawa is a tropical island, sometimes described as Japan's version of Hawaii. Kunze planned to set out yesterday or this morning, whenever his nagging Achilles tendinitis permitted. The picturesque sea wall leads to an area called American Village, a U.S.-themed outdoor mall. Japan loves its vending machines, the high incidence of which should come in handy during an endurance event.
"Those will be my water points," Kunze said. "I'll stop and I've got a pocketful of yen coins and I'll stop and grab something out of the vending machines and then continue my run."
Kunze's sons began accompanying him on daily runs about a year ago. At first, he outpaced both of his male progeny rather easily. Within a few months, however, Collin, a rising junior at North Stafford High School, had lost 25 pounds and noticed improvements to his overall health. The three entered some of the Marine Corps' other race offerings, with Cole winning his age group in the Belleau Wood and Medal of Honor 8K events.
Collin already ran his Historic Half, posting a mark of 2 hours, 9 minutes on Thursday. When he called his dad that night (or morning, depending on whose perspective, with Japan 12 hours ahead), the older Kunze was ecstatic. His all-time best mark was somewhere around 2:10:00.
Just like he'd hoped, his son left him in the dust.
"It's cool to see how running excites them and keeps them going even when not I'm here, and running with them — virtually — keeps us going," Kunze said. "It's really cool as a family to do that."
This article is written by Joey LoMonaco from The Free Lance-Star, Fredericksburg, Va. and was legally licensed via the Tribune Content Agency through the NewsCred publisher network. Please direct all licensing questions to legal@newscred.com.
© Copyright 2020 The Free Lance-Star, Fredericksburg, Va.. All rights reserved. This material may not be published, broadcast, rewritten or redistributed.