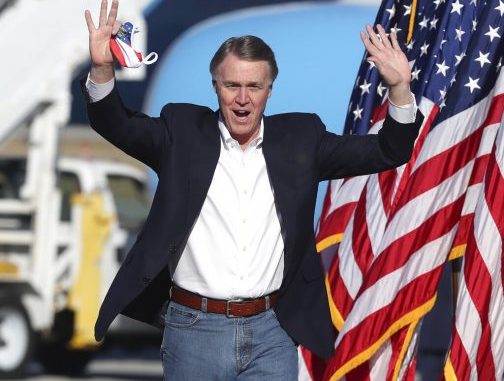 OAN Newsroom
UPDATED 12:09 PM PT – Monday, December 14, 2020
Sen. David Perdue attacked his opponent Jon Ossoff and Kelly Loeffler's opponent Rafael Warnock for taking the majority of their funding from out of state donors. It's a strategy for Georgia Democrats, following Stacy Abrams' run for governor.
In a statement, Perdue said he resents this form of campaign finance because Georgian's should not have out-of-state residents meddling in their affairs. Critics have been quick to point out that Perdue and Loeffler have also received the majority of their out campaign financing from out of state donors, though there's one major difference.
Bonnie and I just cast our votes and kicked off our Early Vote Tour with a great crowd in Glynn County! Early voting starts TODAY. Get to the polls! #GASen #gapol pic.twitter.com/UZrOwQyNpb

— David Perdue (@Perduesenate) December 14, 2020
The Democrat candidates in Georgia have received more than double the funding received by Perdue and Loeffler. However, when it comes to funding within the state of Georgia, Perdue and Loeffler have received slightly more in funds than their opponents.
Political scientists argue this is a major red flag for Jon Ossoff and Rafael Warnock as many learned this election cycle, the candidate who spends the most money does not always win.
According to campaign finance tracking outlet Open Secrets, Democrats outpaced Republicans in out-of-state financing in congressional election races by about 4 percent. Meanwhile, in the Senate Democrats outpaced Republicans by roughly 14 percent.
These differences in out-of-state financing led Democrat Senate and congressional candidates to reach record highs in 2020 campaign spending.
For example, in the South Carolina Senate race Democrats believed Jaime Harrison could unseat Sen. Lindsey Graham. This led Harrison to out-raise Graham by some $23 million, making his campaign the most expensive in U.S. Senate history.
In the end, the money didn't matter as Lindsey Graham was re-elected in double digit landslide. Additionally, the majority of Harrison's financing came from out of state donors just like Jon Ossof and Rafael Warnok, which is something political scientists argue is not a winning strategy.
Recent research out of Stanford University finds people are more deeply partisan today than ever before, and are far less likely to split a ticket and vote against their party because of a political ad on TV or Facebook.
Democrat strategists are now becoming worried about how their candidates can't out-raise Sen. Perdue and Sen. Loeffler in donations from actual Georgia voters.