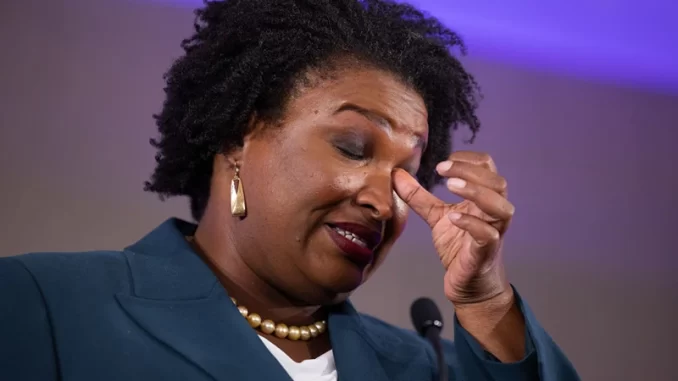 OAN Newsroom
UPDATED 2:53 PM PT – Monday, December 19, 2022
Democrat politician Stacey Abrams received pushback from ex-staffers for cutting their pay right after loss.
Abrams (D-Ga.) is known for her ability to raise campaign donations. For this year's midterms, the Democrat raised $100 million in her second attempt for Governor of Georgia. However, Abrams' campaign is currently more than $1 million in debt.
Abram's Campaign Manager Lauren Groh-Wargo claims, "We did not just lose, we got blown out."
Groh-Wargo blamed a series of "negative press and negative polling" for the lack of fundraising in the final months of the campaign. In order for the campaign to recover and pay off debt over time, the Abrams' campaign had encouraged brokers to sell their donor and voter contact database.
A week after the November election, most of the full-time staffers working on the Democrat's campaign got an unceremonious paycheck cutoff date.
"I figured, $100 million? They should be able to pay me until December," one of Abrams' staffers said.
In contrast, her opponent, Governor Brian Kemp's (R- Ga.), paid off his campaign staff through November, including bonuses.
Georgia Democratic operative Chris Huttman recalled that Abrams had almost ran out of money during the 2018 primary. Huttman referenced this as a "well-documented pattern."
Groh-Wargo claimed that staffers were provided with insurance benefits through November. They also claimed that the Human Resources department worked hard to place the affected staffers in new jobs. Despite the campaign's measures, many staffers claimed that "they have no idea how they're going to pay their rent in January."
Stacey Abrams has not taken to Twitter since she tweeted about a new documentary Discovery+ with her and Selena Gomez. However, she has shared with Good Morning America that she "may run again".