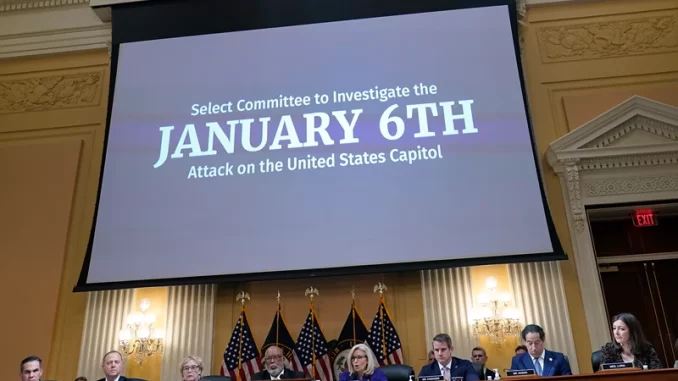 OAN Newsroom Annyatama Bhowmik
UPDATED 1:22 PM PT – Monday, December 19, 2022
The January 6th House Committee has met for the last time before releasing their final report later this week.
After 18 months of investigation following the events that occured on January 6th, the committee referred federal charges against the 45th president.
The committee referred multiple criminal charges to the Justice Department against the former president. These charges included obstruction of an official proceeding, conspiracy to defraud the United States, conspiracy to make a false statement and "incite," "assist" or "aid or comfort" an insurrection.
This announcement will bring the panel's thorough investigation into the violence and into former President Donald Trump's alleged involvement to a conclusion.
Committee Chair Representative Bennie Thompson (D-Miss.) pushed that the panel's findings illuminate how the 45th president was supposedly responsible for the insurrection of the U.S. Capitol.
"Accountability that can only be found in the criminal justice system," Thompson said. "We have every confidence that the work of this Committee will help provide a roadmap to justice. And for those of you who have followed this Committee's work, I hope we have helped make clear that there is a broader kind of accountability. Accountability to all of you: the American people."
The charges also stated that Trump allegedly ignored many calls over a period of several hours. The committee claimed that Trump did not order his followers to disperse and leave the Capitol, but instead he allegedly watched the event play out on television.
The committee maintained that he was aware that he had a duty to guarantee that the laws are properly executed. They claimed that even after knowing his words would incite further violence, Trump purposely sent a media message publicly condemning former Vice President Mike Pence.
In her opening remarks, Vice Chair of the Committee Representative Liz Cheney (R-Wyo.) delivered a harsh rebuke to the former leader, claiming that Trump's actions in relation to the January 6th uprising make him unfit for office.
"No man who would behave that way at that moment in time can ever serve in any position of authority in our nation again," Cheney said. "He is unfit for any office."
Attorney General Merrick Garland will make the ultimate call on the charging decisions. No final outcomes are likely to be made public anytime before Wednesday.
Trump has yet to respond.