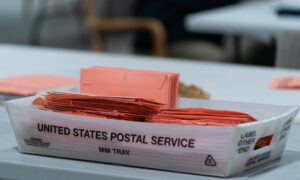 Newly released survey data from the Census Bureau found that over two-thirds of voters cast their ballots by mail or before election day for the 2020 presidential election.
The bureau found that 69 percent of voters nationwide took advantage of the expansion of mail and early voting options in numerous states—a significant jump over the previous election. In 2016, about 40 percent of voters cast their ballots through these non-traditional methods, according to figures released this week.
The survey, a supplement of the Current Population Survey, found that the increase in non-traditional voting was driven by mail-in voting more than doubling to 43 percent. Some states such as New Jersey mailed out ballots to all eligible voters during the 2020 election. Such election regulation changes were reflected in the survey results where the percentage of voters opting for early or by mail options increased exponentially from 7.9 percent in 2016 to 92.3 percent in 2020. States such as California and Vermont, which also mailed ballots to all voters, saw a 35 percent or greater shift to mail-in and early voting.
The data also found that the rate of non-traditional voting in Arizona, Texas, Montana, Nevada, Utah, Colorado, Oregon, Washington, Hawaii, Maryland, and the District of Columbia was 82.9 percent or greater. But Colorado, Oregon, and Washington did not see a significant shift in the rate as those states had already allowed for all-mail elections in the past.
The change in voting behavior is partly driven by policies adopted to prevent crowding at polling booths amid the CCP (Chinese Communist Party) virus pandemic. These policies, some of which were implemented at the last minute or without approval from state legislatures, became the subject of multiple lawsuits filed by President Donald Trump, his campaign, and a number of Republicans who alleged that the changes were made in violation of the U.S. Constitution and resulted in numerous irregularities.
Several Republican states have enacted or are considering legislative measures in an attempt to protect the integrity of the ballot box in response to the concerns raised during the 2020 election. Georgia implemented a number of changes to the way Georgians vote, including requiring photo or state-approved identification to vote absentee by mail. The law also mandates that secure dropboxes be placed inside early voting locations with constant surveillance and expands early voting across the state.
Similarly, Florida's legislature last week passed a similar law setting out guidelines for methods of voting, drop boxes, and preventing election officials from entering consent agreements.
The survey also found states that recorded an increase in non-traditional voting methods in 2020 also saw a larger change in turnout between the 2016 and 2020 elections compared to the remaining states.
"The 2020 election will long be remembered for having taken place during a pandemic," the Census Bureau said in its release. "As the above findings indicate, the methods of voting used by those casting a ballot were significantly different from prior elections, though the magnitude and nature of the changes varied from state to state."