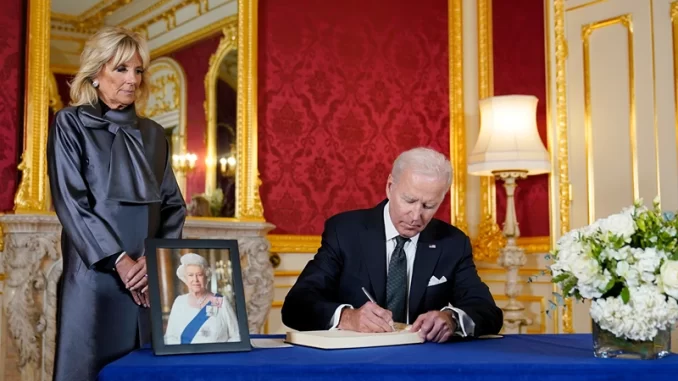 OAN Newsroom
UPDATED 1:15 PM PT –Monday, September 19, 2022
The President and First Lady have signed condolence books paying their respects to Queen Elizabeth II. On Sunday, the Biden's arrived at Lancaster House in London to commemorate the Queens 70-year reign on the throne as the monarch of Great Britain.
During the signing, Biden stated that the Queen reminded him of his mother because of her demeanor and more specifically for her attitude of "make sure you do what you're supposed to do." Biden also offered his condolences to the royal family.
"Our hearts go out to the royal family – King Charles and all the family," he said. "It's a loss that leaves a giant hole and sometimes you think you'll never – you'll never overcome it. But as I've told the King, she's going to be with him every step of the way. Every minute, every moment and that's a reassuring notion."
Biden ended the press conference by stating that it was an honor to meet the late monarch. The President first met the Queen in 1982 when he was a senator in Delaware.
Jill Biden signed a separate condolence book meant for leader spouses. She wrote 'Queen Elizabeth II lived her life for the people she served with wisdom and grace. We will never forget her warmth, kindness, and the conversations we shared.'
The Biden's arrived in London late on Saturday. On Sunday night, the Biden's joined other world leaders at Buckingham Palace for a reception hosted by Britain's new king, Charles III.
Queen Elizabeth II was laid to rest at Windsor Castle just outside of London on Monday. The funeral was attended by guests from nearly 200 countries and territories. 100 presidents and heads of government, and over 20 royals were in attendance. It's predicted that the ceremony was attended by 2,000 guests. The streets of London were flooded by more than a million citizens trying to get a glimpse of the Queen for one last time.