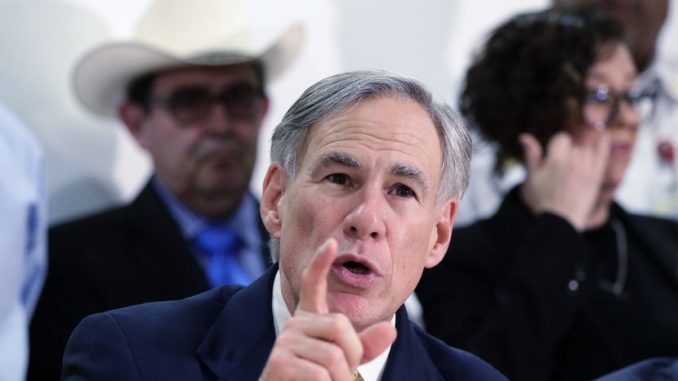 OAN NEWSROOM
UPDATED 3:15 PM PT – Thursday, July 7, 2022
Texas Gov. Greg Abbott (R) signed an executive order addressing the "invasion" over illegal immigrants. Abbott authorized the state's National Guard and Department of Public Safety to apprehend illegal migrants who cross the southern border.
The executive order issued on Thursday also empowers the National Guard and DHS to return illegal aliens from across the US to the southern border. Abbot said Texas is taking "unprecedented action" because of Biden's failing border policies, which has emboldened human smugglers and cartels. This comes after multiple counties in Texas declared the migrant crisis an invasion. They called on the Governor to take action.
Abbott has taken significant action to secure the border in the wake of the federal government's inaction. Some of those actions include securing $4 billion in funding for Texas border security efforts, launching Operation Lone Star and deploying thousands of National Guard soldiers and Texas Department of Public Safety troopers, arresting and jailing illegal migrants trespassing or committing other state crimes in Texas and allocating resources that include acquiring 1,700 unused steel panels to build the border wall in Texas.
"While the Biden Administration has abandoned border communities, the state of Texas will support them and help them respond to the disaster that President Biden has caused on the border," said Abbott. "Operation Lone Star grant funding has played an integral role in our mission to keep Texans safe and support local communities. I encourage local governments to apply for these funds as we work together to prevent illegal immigration and the smuggling of people, illegal weapons and deadly drugs like fentanyl from Mexico into Texas." 
I issued an Executive Order authorizing the Texas National Guard & Texas Dept. of Public Safety to return illegal immigrants to the border.

Cartels have become emboldened by Biden's open border policies.

Texas is taking unprecedented action to STOP this criminal enterprise. pic.twitter.com/ag08ACYP3Y

— Greg Abbott (@GregAbbott_TX) July 7, 2022
In a separate announcement Abbott revealed Texas is allocating an additional $30 million to Operation Lone Star to help cities and counties boost border security.