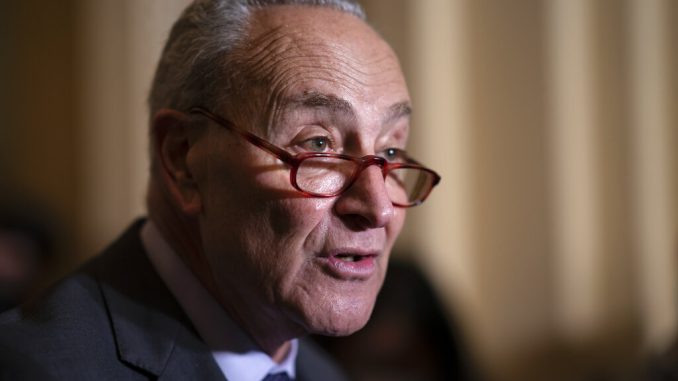 OAN Newsroom
UPDATED 6:55 AM PT – Wednesday, December 1, 2021
Democrat lawmakers are scrambling to find a way to fund the government as Friday's deadline to continue federal funding looms. They are pushing Joe Biden's nearly $2 trillion Build Back Better bill as the government is set to hit default.
While speaking to the press Tuesday, Senate Majority Leader Chuck Schumer (d-N.Y.) was unable to confirm if he can keep the government open past Friday. This comes as Democrat lawmakers still haven't passed or even finished a plan to fund basic government functions ahead of Friday's deadline. Although, Schumer went on to say that passing Biden's sweeping climate change plan by Christmas is a top focus.
"This week, Senate Democrats will focus on continuing to meet with the parliamentary so we can finish the technical and procedural fixes necessary for reconciliation," he stated. "…We've been at the task for several months, but we need to take a step back and recognize that we're hopefully less than a month away from enacting on the largest investment in American people we've seen in generations."
This comes as conservative lawmakers like congressman Steve Scalise (R-La.) say Democrats are on a "big drunken spending spree" all while neglecting basic forms of government. In a recent interview, Scalise also stressed Democrats have maxed out the nation's credit card, but will likely blame Republicans somehow when they control the House, Senate and White House. The very next day when discussing the possibility of a shutdown, Schumer placed the majority of the blame on Republicans.
The single best thing we can do to fight inflation is to kill Democrats' multi-trillion-dollar reckless taxing and spending spree. Not a single Republican is going to vote for it. pic.twitter.com/jPu5nDGfnI

— Leader McConnell (@LeaderMcConnell) November 30, 2021
Meanwhile, Republican Senate Minority Leader Mitch McConnell (R-Ky.) is making it clear that Republicans will do everything in their power to not only make sure federal workers are paid past Friday, but also to prevent Americans from footing the bill of another multi-trillion dollar bill.