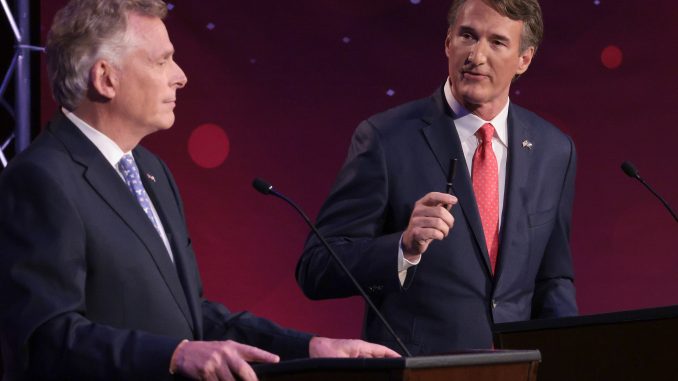 OAN Newsroom
UPDATED 12:33 PM PT – Sunday, October 10, 2021
Democrat gubernatorial candidate in Virginia Terry McAuliffe has tried to make his final case to the people of Old Dominion as to why he should be reelected. A sign that he has seen his prospects of a landslide victory slipping away, the former governor went on CNN on Sunday to attack his opponent Republican Glenn Youngkin.
"My opponent as you know is a Trump wannabe who's been endorsed by Trump five times. He said so much of the reason he's running is because of Donald Trump," he stated. "He'll take money out of education, public and put it into private. He wants to ban abortions. He wants to go on the offense on abortions. He has said the number one issue: election integrity."
Youngkin has been a strong supporter of election integrity as pointed out by McAuliffe himself. The Republican has said he would support an audit of Virginia's elections by going as far as making calls for audits of every voting machine used in the 2020 elections.
Glenn Youngkin is more focused on dog whistles and Donald Trump conspiracy theories than he is on the real issues facing Virginians.

We've got to come together to defeat Glenn Youngkin and keep VA moving FORWARD.

— Terry McAuliffe (@TerryMcAuliffe) October 10, 2021
Despite Democrats attempting to attack Youngkin on the issue, poll numbers have shown Virginian's were not phased by calls for integral elections as the race was in a statistical tie. This has led the party to bring in their own national heavyweights to try and boost McAuliffe by attacking Youngkin.
High profile activist for Democrats, Stacey Abrams, who has maintained she was the legitimately elected governor of Georgia, claimed Youngkin's calls for election integrity were actually just a guise to overturn elections.
"He's not speaking of an audit. He's speaking of an overturning," she explained. "An audit evaluates what was done, but usually what precipitates an audit is either a concern or a practice. What they are asking for is to throw out the practical practice of how we hold our elections and instead respond to false concerns that do not exist."
However, there was one big name that wasn't making their way to Virginia, despite living right next door to Washington D.C. Joe Biden has kept his distance from the race after McAuliffe was an early endorser of Biden's presidential bid.
Terry McAuliffe's economic proposals will cost Virginia families $5,400 each – the largest tax increase in Virginia history! Virginia simply can't afford Terry McAuliffe. pic.twitter.com/U3pKhdhx4U

— Glenn Youngkin (@GlennYoungkin) October 8, 2021
Biden has campaigned for McAuliffe since the start of the campaign when his job approval was much higher. Circumstances in D.C. have quickly changed, which has left Biden with flailing numbers nationwide and potentially dragging down Democrats for other offices.
In a private conversation, McAuliffe said Biden was unfortunately too unpopular to help boost the former governor's numbers in a state he won by 10 points in November.
"We are facing a lot of headwinds from Washington, as you know," he expressed. "The president is unpopular today unfortunately here in Virginia, so we have got to plow through."
Polls have shown the race has been neck in neck, with McAuliffe at about 50 percent and Youngkin at 47 percent within the margin of error. Old Dominion has trended increasingly towards the Democrats since 2008. An upset against an influential former Democrat governor by Republicans could signify a paradigm shift and potential disaster for the party in the midterms.