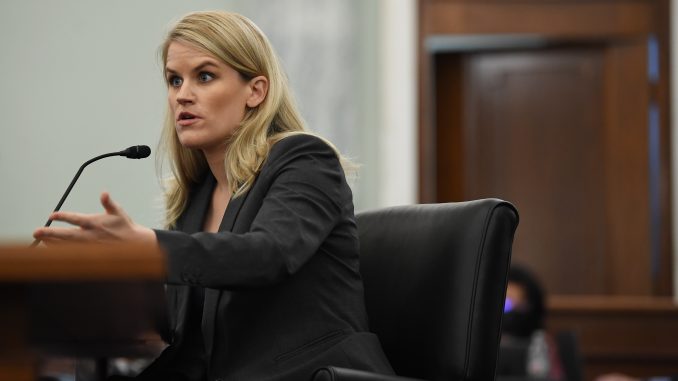 OAN Newsroom
UPDATED 7:17 PM PT – Tuesday, October 5, 2021
The Senate Commerce Subcommittee held a hearing on the impact Facebook had on young people. During a hearing on Capitol Hill on Tuesday, former Facebook Product Manager for Civil Misinformation Frances Haugen testified before the committee about the harmful effects the company had on adolescents.
"Facebook knew its products were harming teenagers," stated Sen. Richard Blumenthal (D-Conn.). "Facebook exploited teens using powerful algorithms that amplified their insecurities and abuses through what it found was an addict's narrative."
Haugen explained the social network put profits over the health and safety of users.
"I think the moment which I realized we needed to get help from the outside, that the only way these problems would be solved is by solving them together and not solving them alone, was when civic integrity was dissolved following the 2020 election," she expressed. "It really felt like a betrayal of the promises that Facebook had made to people who had sacrificed a great deal to keep the election safe by basically dissolving our community and integrated into other parts of the company."
"The recent revelations about @Facebook's mental health effects on children & its plans to target younger audiences are disturbing."

"They show how urgent it is for Congress to act against powerful tech companies on behalf of children & the broader public." @SenatorWicker pic.twitter.com/oA6L1at7xb

— Senate Commerce Republicans (@SenateCommerce) October 5, 2021
Haugen's testimony comes amid a recent report by the Wall Street Journal, which alleged the social media network was aware of the harmful effects it had on children. Haugen told lawmakers Facebook's algorithm could steer young users from something harmless, such as healthy recipes, to content promoting anorexia in just a short period of time.
"Ramp for young users, for all users, amplifies preferences and they have done something called a proactive incident response where they say they take things that they've heard, for example, like can you be led by the algorithms to anorexia content?" she stated. "They have literally recreated that experiment themselves and confirmed, yes, this happens to people. So Facebook knows that they are leading young users to anorexia content."
"Facebook knows that they are leading young users to anorexia content."

This is what Frances Haugen told me about how Facebook's algorithms push pro-eating disorder content to teenage girls. We must put an end to this unacceptable behavior. pic.twitter.com/lXOWBYgVCB

— Senator Amy Klobuchar (@SenAmyKlobuchar) October 5, 2021
The former Facebook employee asserted CEO Mark Zuckerberg intentionally ignored proof of the platform's potentially harmful impact on users and no one had the power to hold him accountable. However, Zuckerberg has remained silent on Haugen's allegations while lawmakers called on him to come forward and take action.
"Mark Zuckerberg you need to come before this committee," Blumenthal asserted. "You need to explain to Frances Haugen, to us, to the world and to the parents of America what you are doing and why you did it."
Meanwhile, Facebook's algorithms were reportedly in overdrive and seeking out anything that appeared to be bad content, took statements out of context and suspended users.