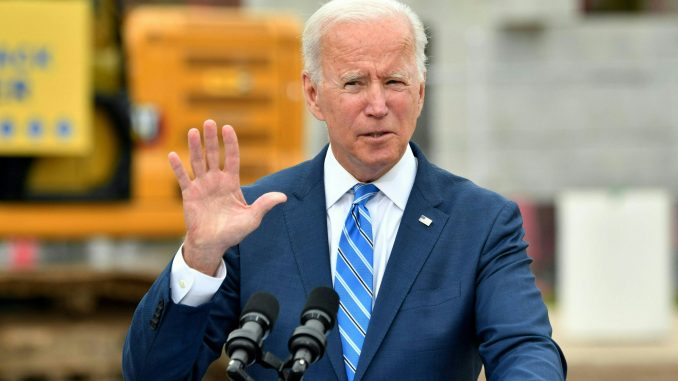 OAN Newsroom
UPDATED 7:39 PM PT – Tuesday, October 5, 2021
Joe Biden attempted to rally domestic support for his "Build Back Better" agenda. On Tuesday, Biden touched down in Howell, Michigan to tout his more than $1 trillion infrastructure package and $3.5 billion reconciliation bill.
Biden argued his proposals aimed to empower America's middle class and contribute to America's growth.
"These bills are not about left versus right, or moderate versus progressive, or anything that pits Americans against one another. These bills are about competitiveness versus complacency," he stated. "They're about opportunity versus decay. They're about leading the world or continuing to let the world pass us by which is literally happening."
The Democrat outlined several goals he aimed to achieve with his massive spending bills, including the expansion of the national's social safety net and the push forward for his climate agenda. In addition, he vowed to bolster America's early childhood education system.
Joe Biden is determined to pass his trillions of dollars in reckless socialist spending no matter the cost, and no matter the price paid by the American people.

— GOP (@GOP) October 5, 2021
Biden stressed the nearly $5 trillion bills would be paid for by increases in taxes on wealthy Americans over a decade. He lamented America has stopped investing itself and programs that made America the leading superpower.
"We invested to win the space race. We led the world in research and development led to the creation of the internet and, you know, but then something happened. We slowed up," he expressed. "We stopped investing in ourselves. America is still the largest economy in the world. We still have the most productive workers and the most innovative minds in the world, but we're risk losing our edge as a nation."
Biden went on to warn if the U.S. failed to develop its economy and infrastructure, other countries such as China would end up replacing America at the top of the food chain.
"Our competitors aren't hanging around and waiting to see what we're going to do. They've been pouring billions of dollars into infrastructure and into training their people for years now. Take China, for example," he explained. "China now produces more steel in one month in America, does in an entire year. You can see it in sector after sector. Other countries are speeding up and America is falling behind. We've got to reset the pace again. We've got to set a different pace."
The work of our time is to prepare ourselves to be competitive — and to win — in the fast-changing 21st century global economy.

That's why we need the Bipartisan Infrastructure Deal and my Build Back Better Agenda.

— President Biden (@POTUS) October 5, 2021
However, Biden remained optimistic America would continue to lead the world in economic competition. He predicted the price tag of the $3 trillion reconciliation bill would drop down to bring Republicans and moderate Democrats on board.
This comes as progressives Democrats, moderate democrats and Republicans continued to fight on Capitol Hill over what provisions they wanted to see in the infrastructure and budget bills.