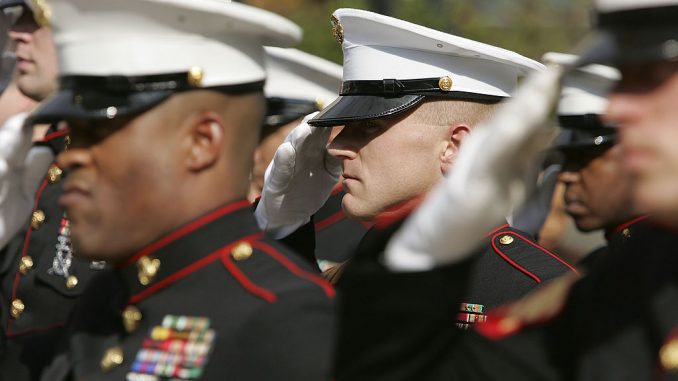 OAN Newsroom
UPDATED 1:07 PM PT – Wednesday, September 22, 2021
A Tik-Tok video that went viral showed a group of Marines in full dress uniform pushing a woman's car out of flood waters in Washington. Last week's rescue occurred when six Marine Corps Body Bearers who finished performing a funeral ceremony at Arlington National Cemetery, spotted Virginia Waller-Torres in distress.
In the video, Waller-Torres can be seen trapped within the rising flood waters during a downpour just outside the cemetery. When suddenly, the six servicemen rushed over to rescue her. All six men were able to successfully push the woman's car under an overpass as police arrived on scene and took over.
"It was like they were sent from somewhere else, from a higher power," said Waller-Torres. "I thought I could die, a truck could hit us. And it was as though, somebody heard me."
"This is the most American thing ever. Thank you!"

A group of Marines helped push a stranded vehicle out of floodwaters near the Pentagon last week in Arlington, Virginia. https://t.co/cbJdZ1owoR pic.twitter.com/1VcIYhU8ie

— ABC News (@ABC) September 21, 2021
The Tik-Tok crowd showed massive support for the video, which garnered four million views. Following the rescue, Waller-Torres was reunited with two of the six Marines.
"It's just about doing the right thing when no one's looking," said one of the Body Bearer rescuers., Cpl. Jared Tosner. "We weren't expecting anyone to be recording or looking. We just wanted to do the right thing."
Both servicemen said although their team wasn't aware they were being filmed, they hope their actions inspire others to step up when duty calls.