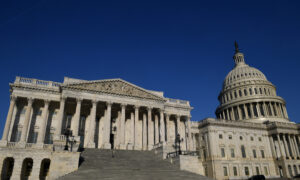 Each spring, members of the U.S. House of Representatives sponsor an artistic discovery contest, a nationwide high school arts competition, to recognize and encourage high school students' artistic abilities both nationwide and in each congressional district.
"Orange County is full of so many talented and creative students, and I can't wait to see what they create for this year's Congressional Art Competition," Rep. Michelle Steel said in a statement to The Epoch Times. "I urge all eligible students to share their talents with their community and enter this year's competition.  It's so important to recognize and celebrate the arts."
This year's theme for the 48th Congressional District, represented by Steel, is coastal heroes.
While submissions are not required to adhere to the theme, additional consideration will be given to pieces inspired by the heroes that work in the communities that make up the district.
Mediums can include paintings, drawings, collages, prints, mixed media, computer-generated art and photography, and all submissions must be originals.
Applicants must live or attend school in the 48 District to participate.
The district includes the cities of Aliso Viejo, Costa Mesa, Fountain Valley, Huntington Beach, Laguna Beach, Laguna Niguel, Midway City, Newport Beach, and Seal Beach, as well as portions of Garden Grove, Santa Ana, and Westminster.
Cash prizes will be given to the district's top three winners, and the overall winner will receive two roundtrip tickets to Washington, D.C. to attend the Congressional Art Competition reception later this year.
The winning artwork of the 48th district's competition will be displayed for one year in the U.S. Capitol and include the winning artwork from all participating districts from around the country. The winning artwork will also be featured on the House of Representatives website.
Entries are due May 3 with finalists to be announced May 7.