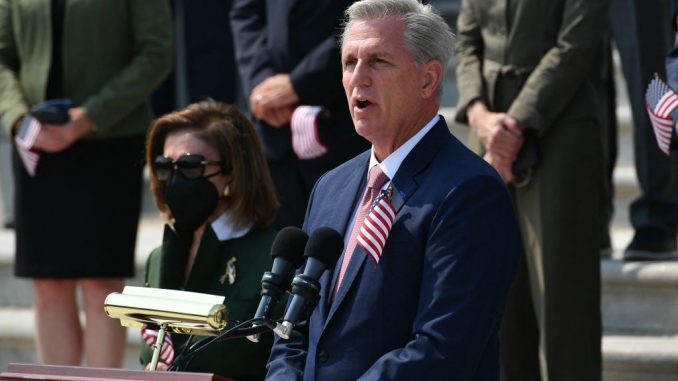 OAN Newsroom
UPDATED 11:20 AM PT – Sunday, September 19, 2021
House Minority Leader Kevin McCarthy (R-Calif.) says the total amount of proposed Democrat spending is the same amount spent to win WWII. In an interview on Sunday, the California lawmaker blasted the Democrats' push for the $1 trillion bipartisan bill, as well as the $3.5 trillion reconciliation package.
He warned Democrats are just adding onto the debt, saying the spending will only go on to create greater inflation. McCarthy also came down on Democrats' push to raise taxes, saying it will ultimately come down on the middle class.
"It's redistribution of wealth, it will take money out of the economy, make America less competitive, especially for our competition around the world. It's a real concern," stressed McCarthy.
Left-wing Democrats have already warned they would not support the bipartisan deal without movement on the larger reconciliation package.
President Biden's bad policies are threatening America's small businesses:

◘ Record inflation—driven by radical government spending
◘ Labor shortage—spurred by paying people to stay home, with no work requirements
◘ Government mandates—infringing on Americans' civil liberties

— Kevin McCarthy (@GOPLeader) September 18, 2021
However, McCarthy said his sights are set on the 2022 midterm elections, pointing out Republicans are only five seats away from taking control of the House. "We need a check and balance, we need to have some accountability and some control, that's why we're only five seats away from winning Congress back out of control and firing Nancy Pelosi once and for all," stated McCarthy.
Meanwhile, the vote on the bipartisan infrastructure bill is slated to take place in the House later this month.