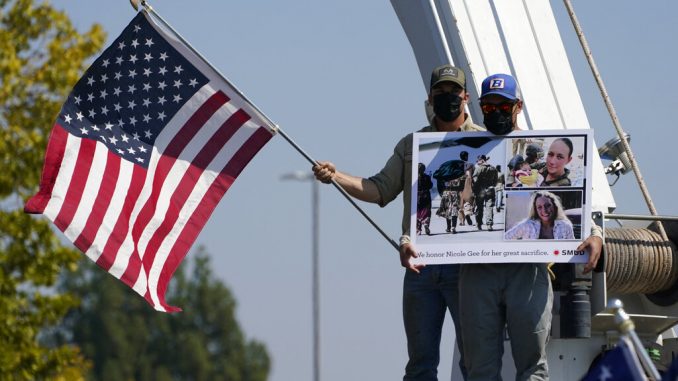 OAN Newsroom
UPDATED 12:16 PM PT – Sunday, September 19, 2021
Three fallen Marines are celebrated in California after making the ultimate sacrifice in the Kabul terror bombing. On Saturday, Lance Cpl. Kareem Nikoui, Cpl. Hunter Lopez and Sgt. Nicole Gee were laid to rest at different locations across California. All three were killed in the terrorist attack at the Kabul airport, along with 10 other U.S. service members during the disastrous withdrawal of forces from Afghanistan.
Lance Cpl. Nikoui is remembered by his friends and family for being kind and wonderful to be around. Just hours before his untimely death, the 20-year-old was sending videos showing him interacting with local Afghan kids, making them smile when all seemed lost in their home. The family said Nikoui always wanted to be a Marine and to help people.
The attack occurred while the Marine was trying to get three Afghan families to safety near the airport. "He successfully got three families to safety that day in the midst of the chaos," said Nikoui's pastor Phil Wozniak. "And then he went back for a small child when the bomb blast went off and the senseless act of evil took his life and many others."
Cpl. Lopez had his life celebrated in Palm Springs where family and friends remembered him and his heroic final acts. They said he wanted to follow in his parents footsteps and work for the Riverside County Police Department. However, Lopez wanted to serve his country by enlisting in the Marines before he made that step.
The 22-year-old was a member of a Special Crisis Response Team, responsible for providing security and getting people evacuated from the deteriorating country. Just before the blast that took his life, he was helping two young girls who were pinned up against a fence in the chaos.
"Hunter made the ultimate sacrifice for his country. Let us not forget Hunter. Let us not forget Marines like Hunter," said Lopez' uncle, Rene Santos. "Let us not forget those who have made the ultimate sacrifice for our values, our way of life, for our freedom. Semper Fi, Hunter."
Sgt. Nicole Gee from Northern California was promoted to Sergeant just weeks before her death. She decided to join the service once she met her husband Jarod, who is also a Marine. The 23-year-old set weightlifting records at her boot camp and is a recipient of the Purple Heart.
One of the last pictures of her alive was taken of her in Kabul holding a baby, saying on Instagram she loved her job for moments like that. Her family remembers her as someone who wanted to dedicate her life to being strong and helping others.
Standing next to widower husband Jarod at her funeral, Gee's best friend described how unique an individual the Sergeant was. "I've heard Sgt. Nicole Gee described as many things since the August 26 cowardice act that took her life. The most common of which is beautiful. And although she was undeniably beautiful, she was so much more than just a pretty face," said Sgt. Mallory Harrison. "She was brilliant, she was bold, and she was brave."
All three ceremonies were heavily attended with perfect strangers and family alike showing up to fly American flags and pay their respects to the heroes who gave their all for the country.