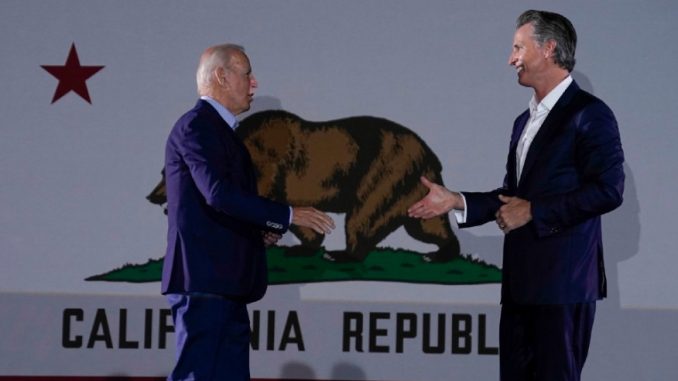 OAN Newsroom
UPDATED 8:56 AM PT – Tuesday, September 14, 2021
Working class Americans were left shocked and dismayed after Joe Biden used an official trip designated for surveying wildfire damage in the West to, instead, campaign for California Democrat Gov. Gavin Newsom.
On Monday, Biden traveled to the Golden State coast to where wildfires have destroyed millions of acres of land and displaced residents across the state. However, after only spending a short amount of time hearing testimonials from on-the-ground experts, Biden elected to visit a campaign event for the embattled Newsom.
Critics are slamming Biden for his visit, saying he should be focused on helping Californians or should be in D.C. working to free Americans stuck in Afghanistan.
Great to be with President @JoeBiden tonight talking about what's at stake in this election.

Let's not leave anything to chance — it's time to get out there and VOTE NO! pic.twitter.com/Lvf1pTiTUk

— Gavin Newsom (@GavinNewsom) September 14, 2021
While addressing the media, Biden appeared to have his eyes glued to his notes and rarely looked up at reporters. He told the leftist attendees to fear a Larry Elder victory and suggested President Donald Trump could make a return albeit vicariously through Elder.
"All of you know that last year I got to run against the real Donald Trump," Biden stated. "This year the leading Republican running for governor (of California) is the closest thing to a Trump clone that I've ever seen in your state."
Biden also attacked Texas in his speech, despite the Republican state being a top destination for Californians fleeing the far-left policies of the Newsom-led California government.
"Take a look at what's happening in states like Texas; it just passed a law empowering complete strangers to become bounty hunters," he claimed. "Going after women who exercise their right to choose; a law that the United States Supreme Court refused to stop."
Despite his best efforts, Biden cannot skirt responsibility forever and will eventually have to return to D.C. to face the consequences of his actions and inactions.