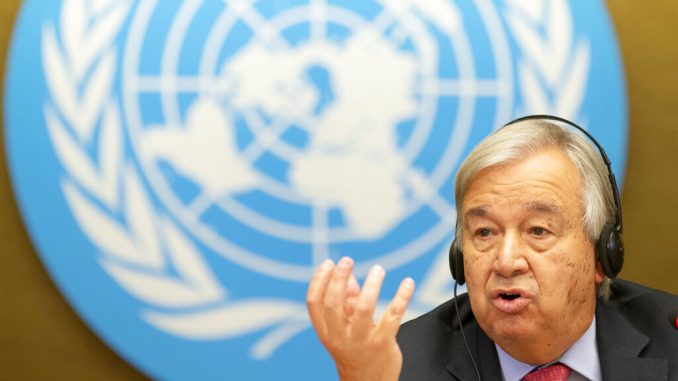 OAN Newsroom
UPDATED 9:55 AM PT – Tuesday, September 14, 2021
Global leaders are coming together to fill the reservoir of humanitarian funds for the people of Afghanistan. On Monday, the United Nations held a donor conference in Geneva, Switzerland, where donors reportedly pledged more than $1.2 billion.
UN Secretary General Antonio Gutteres initially fought for just over $600 million to provide food services, shelter and health care to 11 million Afghans.
"The people of Afghanistan need a lifeline," he stated. "After decades of war, suffering and insecurity, they face perhaps their most perilous hour. Now is the time for the international community to stand with them and let us be clear, this conference is not simply about what we will give to the people of Afghanistan. It is about what we owe."
Gutteres warned the situation in Afghanistan was dire amid the country's political and economic collapse after the U.S. pulled out troops.
I am encouraged by the resounding support for @UN humanitarian operations in Afghanistan.

This funding will allow us to step up our help to the Afghan people in the their time of dire need. pic.twitter.com/UYk6OLO2df

— António Guterres (@antonioguterres) September 13, 2021
During the final phase of Joe Biden's withdrawal, Taliban forces swiftly took over while re-imposing their suppressive policies towards women and pro-western allies. Many UN delegates feared millions of Afghans would go hungry and lose reproductive health services.
"Today, one in three Afghans do not know where their next meal will come from," Gutteres continued. "The poverty rate is spiraling and basic public services are close to collapse. Hundreds of thousands of people have been forced to flee their homes and at the same time, Afghanistan faces a severe drought…many people could run out of food by the end of this month."
In the meantime, Gutteres said the Taliban has committed to allowing aid workers to operate freely to provide humanitarian assistance. However, some officials within the UN, including U.S. Ambassador Linda Thomas-Greenfield, stressed words are not enough.
"This is a moment for the international community to unite," she asserted. "Let us commit today to meeting this urgent appeal for financial support, commit to standing by humanitarian workers as they do their own important work and to stepping up humanitarian action in Afghanistan so that we can save the lives of Afghans in need."
Thomas-Greenfield said the U.S. is contributing $64 million to the new humanitarian efforts.