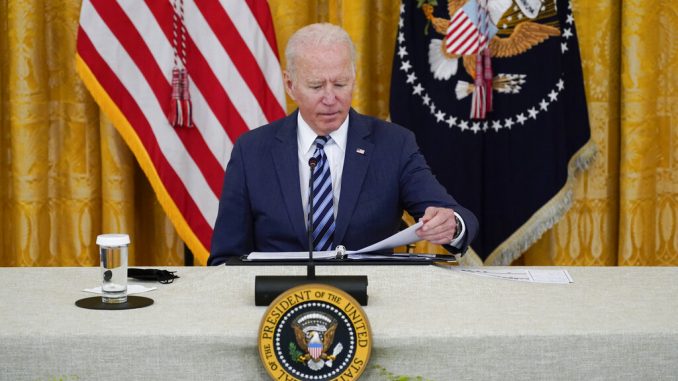 OAN Newsroom
UPDATED 10:45 AM PT – Thursday, August 26, 2021
Joe Biden met with the heads of Amazon, Apple, JP Morgan, Google and several other companies Wednesday to discuss supply chain security, insurance and other issues. He claimed cybersecurity is one of his top priorities and urged companies to work alongside his administration to prevent any future attacks.
"I've made this a priority for my administration from the outset," Biden stated. "And in May, I issued an executive order to modernize our defenses and improve our federal government's cybersecurity."
The session comes as hackers have targeted a number of U.S. companies in recent months, including a T-Mobile breach which exposed the personal information of more than 53 million customers. Biden announced his administration had launched a new initiative to focus on strengthening the electric sector.
"That initiative has already resulted in more than 150 utilities that serve 90 million Americans being deployed or committing to deploy cybersecurity technology that are extending that initiative to gas pipelines as well next," he stated.
Biden then warned that he had met with G7 leaders to create an international effort focused on holding cyber criminals accountable, wherever they are.
"And because cybersecurity is a global issue, we've also rallied G7 countries to hold nations who harbor ransomware criminals accountable," he explained.
Tune in as I discuss the whole-of-nation effort required to improve our cybersecurity. https://t.co/CSsP9mrRKx

— President Biden (@POTUS) August 25, 2021
However, Biden's handling of U.S. cybersecurity has resulted in widespread concern, especially after a meeting with Russian President Vladimir Putin when Biden gave Putin a list of high-profile targets in the U.S. that should not be attacked.
"I talked about the proposition that certain critical infrastructures should be off limits to attack, period, by cyber or any other means," Biden stated. "I gave them a list, if I'm not mistaken…16 specific entities, 16 defined as critical infrastructure under U.S. policy. From the energy sector to our water systems."
During the meeting Wednesday, Biden touched on that meeting while doubling down on his claims that his discussion with Putin was not a security threat.
"And I might add, I had a a summit with Vladimir Putin and made it clear to him that we expected him to hold them accountable as well because they know where they are and who they are," he noted.
The private sector, it seems, is moving ahead independently with their own investments into cybersecurity. Microsoft has pledged to invest $20 billion and Google pledged $10 billion within the next five years. IBM will be training 150,000 people in cybersecurity skills and Amazon will make security awareness training available for free for all employees.