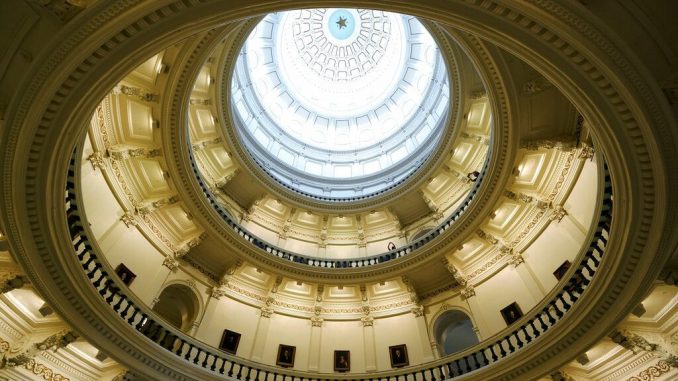 OAN Newsroom
UPDATED 6:25 PM PT – Friday, August 20, 2021
The Texas House of Representatives has reached a quorum for the first time since July 12 when at least 57 state House Democrats fled to Washington, D.C. in order to stop a GOP backed election security bill. Texas House Speaker Dade Phelan declared that the required two-thirds of the total legislators had been reached Thursday night, allowing lawmakers to begin voting again.
Three Democrat representatives returned for the second special session including Garnet Coleman, Ana Hernandez and Armando Walle, while 49 other Democrats were absent. Their return for Thursday's special session comes after the Texas Supreme Court ordered the withdrawal of a district court's order on Tuesday, which temporarily protected Democrat lawmakers from arrest.
Yet, most Democrats like Rep. Ron Reynolds remained in Washington in defiance of arrest warrants issued by Speaker Phelan. "I'm extremely disappointed they went back to make quorum," said Reynolds. "It was not what was informed or communicated with our House Democratic Caucus."
After 38 days of inaction brought on by Democrats, the House has finally reached a quorum.

Time to get to work for the people of Texas.

Time to make sure that members who haven't shown up for work are not eligible for leadership positions.#txlege

— Texas Freedom Caucus (@TxFreedomCaucus) August 20, 2021
Coleman was absent at the end of the regular session in July after having his leg amputated due to an infection and didn't travel with Democrat colleagues to Washington, yet voiced support for their protest. Coleman has since expressed regret for his role in dividing the Texas House of Representatives.
Meanwhile, Phelan praised Rep. Coleman for his dedication and courage to return to the House. Thursday's quorum was announced in the evening with Phelan saying it's time to get back to the business of the people of Texas.
In the meantime, Republicans have been working quickly to schedule a hearing on the elections integrity bill for Saturday.