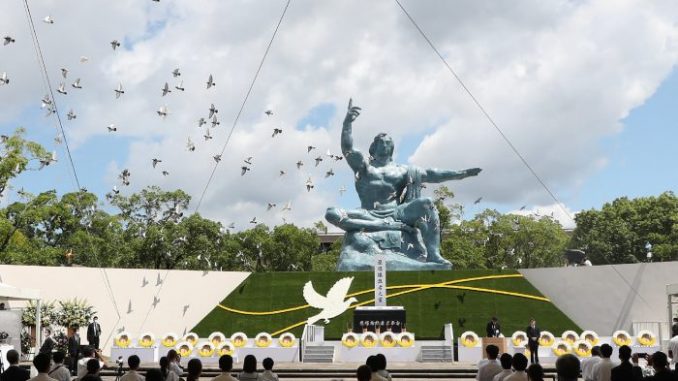 OAN Newsroom
UPDATED 11:36 AM PT – Monday, August 9, 2021
Japan observed the atomic bombing of Nagasaki, which occurred 76 years ago as of Monday. According to reports, Japan's Prime Minister Yoshihide Suga joined 500 participants at Nagasaki Peace Park for Monday's event.
The U.S. detonated a nuclear bomb, codenamed Fat Man, over the city of Nagasaki on August 9, 1945. The move prompted the Japanese to surrender to World War II.
The Prime Minister delivered a speech to honor the city's estimated 74,000 victims.
"I would like to offer my sincere condolences to the souls of the many victims of the atomic bomb," Suga expressed. "I would also like to express my heartfelt sympathy to those who are still suffering from the aftereffects of radiation exposure."
On the solemn anniversary of the atomic bombing of Nagasaki, we remember the horrific power of nuclear weapons — the enormity of the death and destruction they can deliver — and reaffirm the responsibility of the U.S. and all nations to ensure such weapons are never used again.

— Secretary Antony Blinken (@SecBlinken) August 9, 2021
A similar ceremony was held at the first bombing site of Hiroshima on Friday.