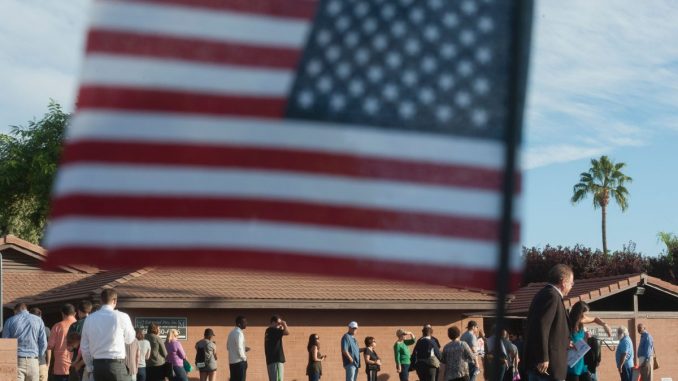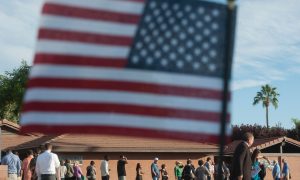 Jim Lamon, head of a solar power company and a supporter of former President Donald Trump, is the first Republican to enter the primary race in Arizona to compete for a Senate seat, hoping to oust incumbent Sen. Mark Kelly (D-Ariz.), a Democrat and former NASA astronaut.
Lamon enters the ring as the founder of Depcom Power, a Scottsdale-based firm that engineers and builds utility-scale solar plants. His campaign donation landing page calls on supporters to help him "kick off his campaign to take back the Senate majority," which the GOP ceded in November to a 50-50 split in the upper chamber.
"It's time to end 'BUSINESS AS USUAL' in Washington," the website says, with Lamon riffing off his considerable experience in the power industry to drive home a "power to the people" message in his campaign announcement video.
"I've spent my career bringing power to the people," he said in the clip. "But we all know there's another kind of power. Some people have a lot of it, but others have almost none."
Lamon grew up on a farm in Alabama before serving as an engineer airborne officer for the U.S. Army, which included a deployment in pre-unification Germany.
"Serving in Germany during the Cold War showed me that American freedom is so powerful, people would risk their lives to escape communism," he says in the video to imagery of the iconic moments around the fall of the Berlin wall, with jubilant crowds swarming the erstwhile barrier between the communist East and free West.
He later went on to work in the energy industry, first in coal and gas, before turning to solar. He stepped down as Depcom CEO to focus on his Senate run but has stayed on as chairman.
"Power also means responsibility," Lamon says in the video, after highlighting his role in building one of the "fastest-growing private energy companies" in the United States.
"Too many powerful companies outsource jobs, collude with our foreign foes, and abandon the American ideals that made their success possible," Lamon continues, as images flash of a military parade in China, in a tacit dig at American business interests that have cozied up to the Chinese Communist Party.
Touching on the familiar Republican theme of fiscal restraint, Lamon took aim at the trillions in government spending under President Joe Biden, saying, "our grandchildren will struggle to pay off the debt."
He railed against the "political and media elites" who he said have "the power to divide us and distract us, to amplify the angry, the lies, and suppress the reasonable," while images of riots streaming in the video background, along with a police car on fire.
"Here in America, we have the power to take their power away," Lamon said in the video. "I want to take money and power away from Washington, D.C., and give it back to you."
Jeff DeWit, who served as chief operating officer of Trump's 2020 campaign, will chair Lamon's campaign, according to AZCentral.
DeWit called Lamon "a committed conservative who will put America first, secure our border, and streamline the federal government," according to the outlet.
Lamon enters a Republican primary race that has so far seen no other candidates officially announce. Some of the names mentioned in reports as potential contenders include Rep. Andy Biggs (R-Ariz.) and Maj. Gen. Michael McGuire, Arizona's retired adjutant general.
The winner of the GOP primary will face Kelly, who won a special election in 2020, ousting Sen. Martha McSally (R-Ariz.) and filling the remainder of a term initially won in 2016 by the late Sen. John McCain (R-Ariz.). Whoever wins in 2022 will serve a full six-year term in the Senate.
Kelly, a retired astronaut, raised $4.4 million during the first quarter of 2021, a large sum this far out from an election.