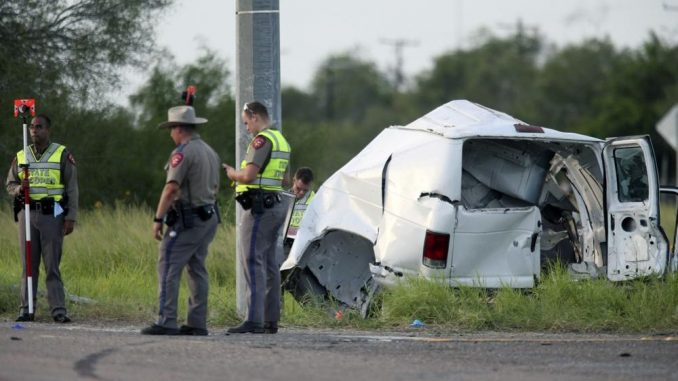 OAN Newsroom
UPDATED 1:34 PM PT – Thursday, August 5, 2021
At least 10 people have been pronounced dead after a van reportedly carrying dozens of migrants crashed in South Texas. On Wednesday, the Brooks County Sheriff's Office confirmed 10 people were killed and 20 others were injured when the vehicle veered off the highway about 50 miles north of McAllen.
The van reportedly struck a metal pole killing the driver and nine others on impact. The injured passengers were taken to local hospitals for treatment, where some are said to be in critical condition. The crash was said to have happened close to a nearby border patrol checkpoint.
"As of right now, it looks like undocumented immigrants, but right now we're trying to ID everybody and then we're going to have to also go through the Mexican Consulate to confirm if they are from out of the country or not," said Sgt. Nathan Bradley from the Texas Department of Public Safety.
According to officials, the van didn't have seats or seatbelts and was carrying twice its capacity, which could have played a role in the wreck. Texas authorities are currently working with the Mexico Consulate to identify the victims, however, those identities will not be released until family members are first notified.