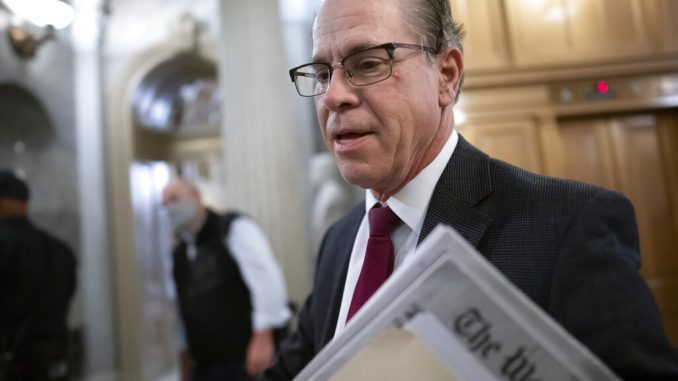 OAN Newsroom
UPDATED 7:37 AM PT – Wednesday, December 8, 2021
According to Sen. Mike Braun (R-Ind.), a rising number of Democrat lawmakers are joining his push to strike down Joe Biden's vaccine mandates. In a series of interviews on Tuesday, the Republican said West Virginia Democrat Joe Manchin (D-W.Va.) and a few others are firmly opposed to imposing vaccine requirements for their constituents.
"It gets every senator, every House member on record, so I think it's going to make it tough for Biden to keep pushing forward when it was a bad idea to begin with," he asserted.
Braun stressed that Biden's "crazy policies" must stop. He added vaccine mandates are a "lunacy," which would destroy small businesses across America.
The Food Industry Association (@FMI_ORG), Job Creators Network (@JobCreatorsUSA), Independent Electrical Contractors (@IEC_National), Heritage Action @Heritage_Action), Freedom Works (@FreedomWorks), Club for Growth (@club4growth), Americans for Prosperity (@AFPhq),

— Senator Mike Braun (@SenatorBraun) December 7, 2021
"Any swing state senator, anybody that is listening to their people back home…this doesn't poll when its vaccine or job and even when you say vaccine or get tested for a job, most of the people who are digging in, regardless of their reasons, aren't viewing it as an option," stated the Indiana senator.
Braun cited a poll by Axios that found only 14 percent of Americans support vaccine mandates. He also highlighted the ongoing litigation to outlaw Biden's mandates.