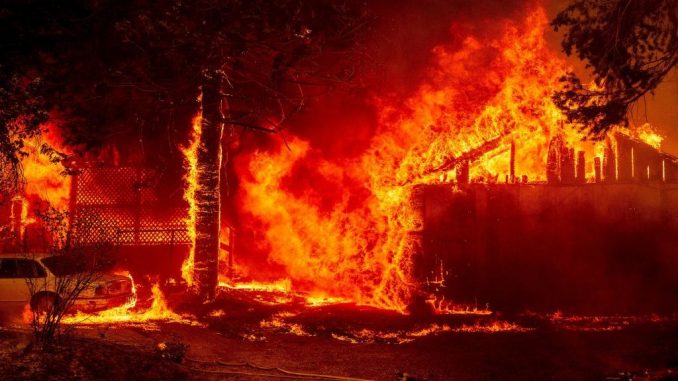 OAN Newsroom
UPDATED 3:12 PM PT – Thursday, August 5, 2021
A new wildfire has scorched hundreds of acres in Northern California, while firefighters continue to battle a blaze that's only grown over the weeks. Reports on Thursday said the blaze, dubbed the River Fire, started late Wednesday afternoon around 70 miles west of the California-Nevada border.
The fire quickly grew to around 1,400 acres, destroying around 40 structures and threatening another 4,000. Around 6,600 residents have already been forced to evacuate their homes with fire officials reporting no containment of the blaze as of Wednesday evening.
Sheriffs warned residents if they received an evacuation warning, to not take their chances and to simply leave. In the meantime, fire crews have continued to battle the blaze known as the Dixie Fire, which is about 120 miles north of Sacramento.
The #DixieFire is now the 6th largest fire in CA history at 322,502 acres. As we head into the weekend, triple digit temps are expected in many parts of CA! Avoid the sparks that start wildfires by never using outdoor equipment or driving a vehicle on dead or dry grass. pic.twitter.com/SsXWRlIGth

— CAL FIRE (@CAL_FIRE) August 5, 2021
Reports said part of the Dixie Fire swept through the town of Greenville leaving the community, which was once home to more than 1,100 people, not much much more than ash. Businesses and homes were consumed, some of which date back to the state's Gold Rush-era, with buildings more than a century old.
This came amid a "red flag warning" with forecasters predicting dry conditions and winds up to 40 miles-per-hour. Sheriffs also warned if anyone was still in the area to evacuate as they are in danger and must leave immediately.
More than 26,000 people have been placed under evacuation orders due to the size of the Dixie Fire's footprint. Firefighters in the U.S. are currently battling more than 90 large fires that have burned a total of more than two million acres.