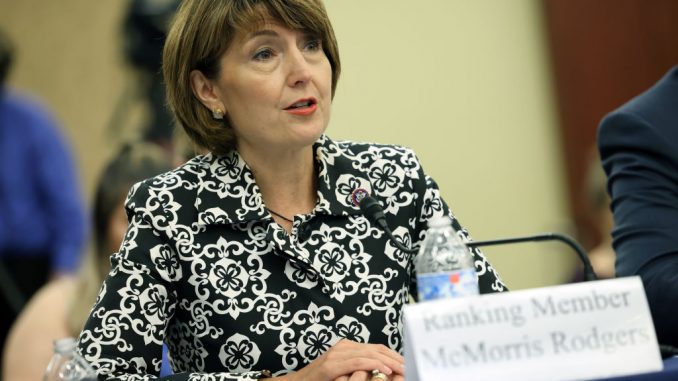 OAN Newsroom
UPDATED 2:44 PM PT – Wednesday, August 4, 2021
Members of the GOP introduced a bipartisan measure to protect the health of federal forests. Recent reports detailed the Resilient Federal Forests Act, which was introduced in recent weeks by Washington lawmakers Cathy McMorris Rodgers and Dan Newhouse. The bill was initially proposed by Arkansas Congressman Bruce Westerman, who serves as the ranking member of the House's Natural Resources Committee.
Reports said more than 80 million acres of national forests are overgrown and fire-prone. They added the forests are in need of active land management. House Minority Leader Kevin McCarthy (R-Calif.) recently praised Westerman and the bill.
"This bill is especially critical to a state like California, where our communities are annually devastated by catastrophic wildfires," said McCarthy.
ICYMI: Ranking Member @RepWesterman recently introduced the Resilient Federal Forests Act 🌲

Learn more about why this legislation is important, especially for @GOPLeader's home state of California ⬇️ pic.twitter.com/YcW2hYZeyG

— Natural Resources GOP (@NatResources) August 4, 2021
According to lawmakers, the bill would use state of the art science to determine the top 10 percent of high risk fire sheds, improve wildlife habitats, protect infrastructure and public safety where forests and urban areas intersect, encourage quick reforestation and remove hazardous trees while revitalizing the economy of rural areas. It also seeks to reduce frivolous lawsuits while increasing the pace and scale of critical restoration projects.
McMorris Rodgers pointed to the fires burning through the northwest, saying we can't allow decades of overregulation and legal issues to stall forest management efforts any longer. She noted it's time to cut through the red tape and give the forest service the tools it needs to better manage our forests.
The issue of forest management has long been on the Washington lawmaker's plate, as she spoke about the issue at the beginning of last year.
"We should all, Republicans and Democrats, be able to come together to support healthy forests. When our forests are healthy, it becomes harder for these fires to take off," stressed McMorris Rodgers. "But right now, we are not effectively managing our increasingly at risk forests."
Both McMorris Rodgers and Newhouse have also sponsored an additional act that would give rural communities more resources to deal with wildfires. Fighting wildfires is also included in the Senate bipartisan infrastructure proposal with more than $3 billion devoted to wildland firefighting efforts and almost $6 billion toward national resource related infrastructure, including fire management and restoration.