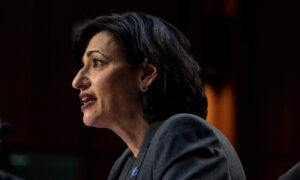 Rochelle Walensky, the director of the Centers for Disease Control and Prevention (CDC), said Sunday morning that the latest update to the agency's mask guidelines has nothing to do with political pressure.
In an interview on "Fox News Sunday," Walensky was asked what went into the CDC's decision to shift from its previous position on wearing masks.
As host Chris Wallace noted, as of Wednesday night, Walensky was still arguing that fully vaccinated Americans should continue to wear masks indoors. On Thursday, however, the updated CDC guidelines stated that those who have been fully vaccinated "can resume activities that you did prior to the pandemic" and do not have to wear a mask or socially distance in most indoor and outdoor settings.
Wallace then pointed to the "increasing pressure" from the public and members of Congress, such as Sen. Bill Cassidy (R-La.), who expressed during a Senate hearing "incredible frustration" with an apparent disconnect between science and health officials who say they follow science.
"Can you state flatly to the American people that pressure had nothing to do with the abrupt shift in the CDC guidelines?" Wallace asked.
"Yes, I can," Walensky responded. "I can tell you it certainly would have been easier if the science had evolved a week earlier and I didn't have to go to Congress making those statements, but I'm delivering the science as the science is delivered to the medical journals."
"And, you know, it evolved over this last week, the cases came down over the last two weeks," she continued. "I delivered it as soon as I can when we had that information available."
Walensky's comments also come as the CDC faces allegations that it changed its school reopening guidelines under the influence of American Federation of Teachers (AFT), the second-largest teachers' union in the United States. According to numerous emails obtained by the New York Post, AFT reviewed a draft of those guidelines, and the CDC adopted at least two of the union's recommendations nearly verbatim in the final release.
The initial draft, according to the NY Post, would have allowed in-person instruction regardless of transmission rates. But the guidelines were adjusted in favor of the union to include a provision that said, "In the event of high community-transmission results from a new variant of SARS-CoV-2, a new update of these guidelines may be necessary."
"Recently released emails reportedly show that the CDC has been taking its cues from teachers' unions instead of following the science," a group of four Republican members of Congress wrote in a letter to Walensky, demanding explanation regarding the NY Post exposé. "This political interference has resulted in months-long delays in the opening of schools to the detriment of American children."