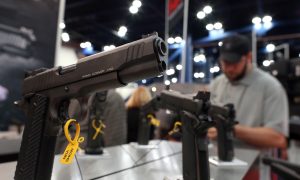 Days after the Texas House passed a landmark bill that would allow permitless carry of handguns, Lt. Gov. Dan Patrick said that there aren't enough votes in the GOP-led Senate to pass the measure.
"If we have the votes to pass a permitless carry bill off the Senate floor, I will move it," Patrick said in a statement. "At this point we don't have the votes on the floor to pass it."
Patrick added that he would meet with representatives of law enforcement groups that oppose no-permit carry and groups such as the National Rifle Association (NRA) and Gun Owners of America that back the measure in order "to see if we can find a path that a majority of senators will vote to pass."
Senate bills in Texas typically need 18 votes from the 31-member chamber to be considered on the floor and so the no-permit carry bill would need all 18 Republican senators—or some Democrat votes—to proceed.
Last week, Republican state Sen. Kel Seliger told The Texas Tribune that it is too early to say if he would back the bill, saying that his office was still researching the issue and that while he tends to support "just about all" bills related to gun rights, the "system that we have now works."
Texas, unlike most states, requires a permit for legally-owned handguns to be carried outside of limited areas like one's home and vehicle. Last week, on an 84-56 vote, the Texas House gave its initial approval to House Bill 1927, which would allow residents of the Lone Star state to carry a handgun without a state-issued licence, also known as "constitutional carry."
Passing constitutional carry while maintaining licensing as optional for reciprocity purposes is one of the legislative priorities of the Texas GOP.
"Anyone who legally possesses a handgun should be able to carry it, open or concealed, without a permit," the Texas Republican Party said in a statement.
"Criminals do not follow the law. The permit requirement disarms their victims. Based on evidence from other states, a permit requirement does not make people safer," the GOP stated.
The measure is backed by the NRA, which said in a statement that, "it's time for Texas to join the 20 other states that have legalized this personal protection option."
Opponents of the measure, including Democrats and some law enforcement officers, have instead called for stricter gun control measures.
"Instead of focusing on fixing our grid or working to restore our economy following the COVID-19 pandemic, Texas Republicans are laser-focused on making it easier for criminals to access dangerous weapons despite the mass shootings that we've seen time and time again across this country," said Mike Collier, a Democrat with plans to challenge Patrick for lieutenant governor in 2022, in a statement.
On Tuesday, Texas Gov. Greg Abbott declined to say whether he would sign the bill if it passes the Senate and reaches his desk.
"We are looking at all of these bills as they are working their way through the Capitol," Abbott told reporters when asked about House Bill 1927. "While we are working to see what happens with legislation like that, what I am focusing on are the items that I listed as emergency items."
Rachel Malone, the Texas director of Gun Owners of America, told Texas Scorecard that the organization looks forward to "discussing with Lt. Gov. Patrick the best path forward to repealing the license requirement so that legal gun owners do not have to apply for a permit to simply carry a handgun," adding, "we urge all Texans to contact your State Senators to be sure they know that their constituents want them to prioritize this policy."
"It would be unthinkable for the Senate to let this bill die after the House has taken such strong and decisive action on it," Malone told the Texas Tribune.