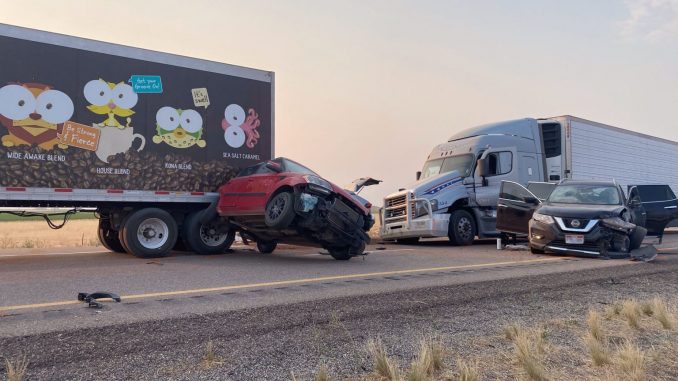 OAN Newsroom
UPDATED 12:40 PM PT – Monday, July 26, 2021
A multi-vehicle pileup in Utah has left several people dead and many others injured. The incident happened on Sunday afternoon on Highway 15 in Millard County, which is about two hours south of Salt Lake City.
"It's very tragic," expressed Sgt. Cameron Roden of Utah Highway Patrol. "It's very hard to see the loss of life, the families and the people that are affected."
Officials said strong winds created a sandstorm, which impaired the visibility of several drivers and led to a series of crashes involving more than 20 vehicles. One witness went on to explain, "after the semi crashed into the car right beside us, we just kept hearing more crashes."
Our latest update on Sunday's Millard County crash includes an update on the number of fatalities, now 8.https://t.co/P5oNefVGEC

— Utah Highway Patrol (@UTHighwayPatrol) July 26, 2021
Officials reported many of the victims included children and several of the injured have been in critical condition. Utah Gov. Spencer Cox (R) offered condolences by saying, "we fervently pray for the loved ones of those who perished and for those fighting for their lives".
Utah Highway Patrol warned drivers of  delays on Highway 15 throughout the ongoing investigation.