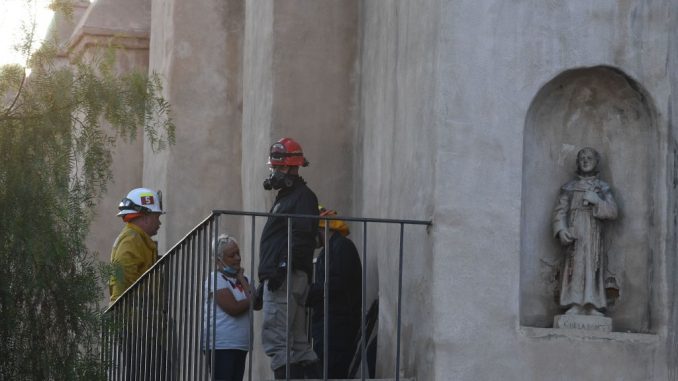 OAN Newsroom
UPDATED 6:06 PM PT – Sunday, July 25, 2021
Churches in America and Canada have recently fallen victim to mounting threats of vandalism and arson. In Canada, churches are being targeted by activists seeking revenge for Indigenous students.
"We're concerned by the frequency and the number of incidents," said Sgt. Steve Addison of the Vancouver Police Department. "We're concerned that as these incidents occur they could embolden other people, that the crimes could escalate and it could put people in danger."
Last year, as George Floyd protesters tore down historic statues, American churches were burned down and vandalized in the process. Additionally, California, Florida, Missouri, Massachusetts and New York reportedly saw statues vandalized and churches set on fire. St. John's Church in Washington, D.C., which is also known as the "President's Church" was also vandalized after protests near the White House took a dark turn.
Recent pictures showed Antifa yet again vandalizing a church in Portland. Now it seems Canada has joined the trend. A Coptic Orthodox Church in Western Canada was burned down, adding to a string of 45 churches attacked in the country within recent weeks.
Former Catholic church in rural Sask. destroyed in fire https://t.co/mnYdTmqN5Z pic.twitter.com/Tu3kncgbUG

— CTV News (@CTVNews) July 9, 2021
Police said they are still searching for suspects and have labeled the attacks as "suspicious." However, politicians believe churches are being targeted for the recent discovery of unmarked graves of Indigenous children at schools run by the Roman Catholic Church. Although according to officials, in most cases they don't have evidence to confirm the fires are linked to the graves.
Politicians, Indigenous leaders and law enforcement have all condemned the fires. "I can understand the frustration, the anger, the hurt and the pain no question, but to burn things down is not our way," said former chief of Assembly of First Nations, Perry Bellegarde.
Fires have destroyed four Roman Catholic churches after 215 unmarked graves were discovered near a former boarding school for Indigenous children in British Columbia. In addition, a few weeks later, 751 unmarked graves were found near a former Indian residential school. Canada's prime minister responded to the findings as a sad discovery that brings awareness to the pain of the past, but condemned attacks on churches.
The news that remains were found at the former Kamloops residential school breaks my heart – it is a painful reminder of that dark and shameful chapter of our country's history. I am thinking about everyone affected by this distressing news. We are here for you. https://t.co/ZUfDRyAfET

— Justin Trudeau (@JustinTrudeau) May 28, 2021
In June, many churches were damaged in Alberta's largest city of Calgary. One of the churches completely destroyed by flames was St. Johns in Surrey. Many immigrants known to flee persecution in other countries are said to have attended this church.
Coptic Orthodox Churches began migrating to America in the late 1940s and the first one known in Canada was opened in 1965. Further, the Indian residential schools are thought to have started in the 1800s.
Two Anglican Churches on Indigenous territory were also damaged by fires. Sam Brownback, former U.S. ambassador at large for religious freedom, recently called this time as "the most persecuted era of Christianity in the history of mankind." He added many Christians face significant persecution for their faith all across the world.
According to Open Doors USA's world watch list, over 340 million Christians worldwide face high levels of persecution. Another United Kingdom government report found that Christians were the most persecuted religious group, stating 80 percent of the oppressed are Christian.