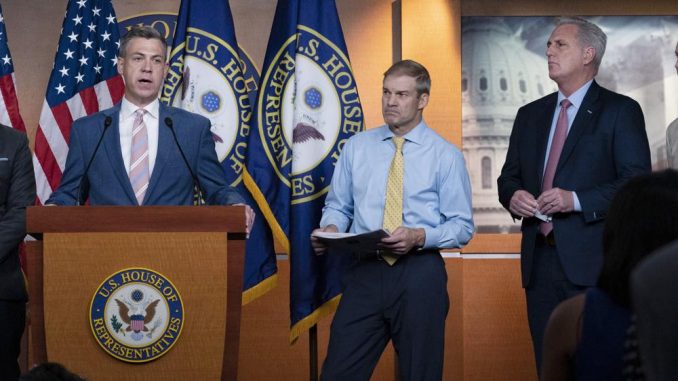 OAN Newsroom
UPDATED 5:30 PM PT – Wednesday, July 21, 2021
House conservatives have refused to back down against Democrats on border wall funding, saying it's their "hill to die on." This week the House Republican Study Committee revealed a bill to give $22 billion directly to border states that want to continue building President Trump's wall.
Last month, the committee along with President Trump visited a section of the wall in Texas that was almost complete, but was stopped under Joe Biden.
It's been 180 days since Biden halted border wall construction to "study" the wall. The report was due 120 days ago & no one has seen it.
@JoeBiden where is your report?

It's time to put Americans first. Stop wasting tax dollars and finish the wall. https://t.co/Zzdaai72VX

— Sen. James Lankford (@SenatorLankford) July 21, 2021
"Within two months, everything could have been completed, not sitting there rotting and rusting" said Trump. "It was all set."
The RSC's chairman reiterated President Trump's comments that steel paid for by taxpayers was rusting on the ground and federal contractors have already been paid not to build the wall. Rep. Jim Banks (R-Ind.) stressed that after his visit to the border, he's more convinced than ever that continuing to build the wall is the right path.
Meanwhile, Texas Gov. Greg Abbott (R) has extended an invitation to other governors requesting they send law enforcement and military resources to the border in order to assist with the migrant crisis.