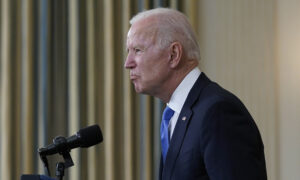 President Joe Biden this week revoked an order from the previous Trump administration that sought to protect users from unfair or deceptive content restriction practices by big tech companies.
The effect of the revocation would require the Director of the Office of Management and Budget and the heads of executive departments to take steps to rescind any regulations or policies that enforced former President Donald Trump's executive order entitled "Preventing Online Censorship," which was signed in May last year.
Trump's order sought to prevent social media companies such as Twitter, Facebook, and YouTube from moderating user's content in what his administration said was being done in an unbalanced and inconsistent way. The order cited examples from Twitter that added "fact-checking labels" to certain tweets in a manner that the administration said clearly reflects political bias.
Twitter added a "fact-checking" label on two of Trump's tweets two days before the president issued his executive order. Trump accused Twitter of "selectively applying" its warning labels, arguing such action amounted to political activism.
Biden's order also seeks to roll back liability protections under Section 230 of the 1996 Communications Decency Act. That law largely exempts online platforms from liability for content posted by their users, although they can be held liable for content that violates anti-sex trafficking or intellectual property laws.
The law allows companies to block or screen content "in good faith" if they consider it "obscene, lewd, lascivious, filthy, excessively violent, harassing, or otherwise objectionable." The protections, however, weren't intended to apply to services that act more like publishers than online platforms, then-Attorney General William Barr said in a speech in May.
Trump's order directs the Federal Communications Commission (FCC) to develop regulations for what is and isn't "good faith" in terms of what content companies can remove or restrict.
The order has been challenged in the courts by several advocacy groups claiming that Trump was seeking to punish social-media companies for fact-checking the president's posts. The groups asked the court to declare the order "unconstitutional and invalid," and to block its implementation or enforcement.
The lawsuit, filed on behalf of Common Cause, Free Press, Maplight, Rock the Vote, and Vote Latino, argues that social media platforms "have First Amendment rights to ensure that accurate information … is not undermined by misinformation on their platforms."
Barr had warned last year that Section 230 was no longer doing what it was intended to do, adding that there was a need to update the federal law.
He said the internet and tech industry has evolved since Section 230 was adopted 25 years ago. At the time, it was used to protect websites that served as bulletin boards for third-party content and to give protection to companies from liability for removing content such as child pornography or human trafficking advertising, he said.
But now, he said that Section 230 was been interpreted in such a broad manner that online platforms are left "unaccountable for a variety of harms flowing from content on their platforms and with virtually unfettered discretion to censor third-party content with little transparency or accountability."
Biden didn't explain his move to revoke his predecessor's order and the decision was announced along with the revocation of several other Trump orders made in 2020, including the order on Protecting American Monuments, Memorials, and Statues, and Combating Recent Criminal Violence and Building the National Garden of American Heroes.