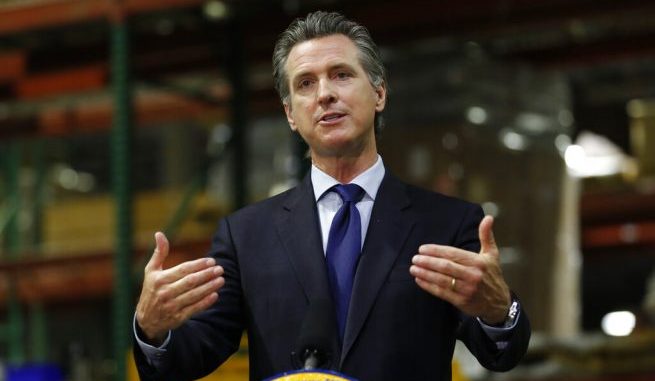 OAN Newsroom
UPDATED 8:18 AM PT — Monday, June 29, 2020
California Gov. Gavin Newsom (D) announced a new round of business closures to help contain the spread of COVID-19. In a statement Sunday, he ordered all bars and nightlife to immediately close their doors in seven counties across the state.
The affected regions include Fresno, Imperial, Kern, Kings, San Joaquin, Tulare and Los Angeles County. Specifically, the order forces the closure of all bars, breweries and pubs that sell alcoholic drinks, but do not serve food.
Health officials have said the decision was based on data related to the surge in COVID-19 cases as well as hospitalization and transmission rates.
This came after Newsom said last week he was recommending Imperial County reinstate stricter stay-at-home orders after it continued to report the highest per capita case rate of any county in the state.
"We are advising and counseling them to move forward and re-institute the stay-at-home order, but they will move at their discretion," he stated. "If they are not able to come to some consensus, I am committed to intervening as is my role and responsibility as governor in the state of California."
Meanwhile, Newsom said the coronavirus is still circulating in California and it's even growing stronger in some parts of the state. This came after the Democrat governor earlier this month also ordered all Californians to wear masks while out in public.
"These trend lines over the last seven days, over the last 14 days, are disturbing and that's why I cannot impress upon people more to wear these masks when they cannot practice physical distancing to continue to be vigilant about the spread of this virus," he stated.
Additionally, health officials in the state have recommended at least eight other counties, including Sacramento to follow suit and close their bars until the number of cases starts to decline.