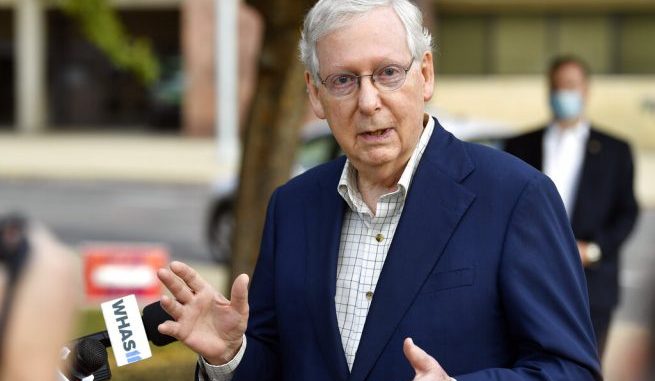 OAN Newsroom
UPDATED 6:47 AM PT – Sunday, October 18, 2020
It's going to be a busy week ahead for the Senate. On Saturday, Majority Leader Mitch McConnell announced the upper chamber will hold votes on two pieces of legislation.
I just announced the Senate will vote next week on hundreds of billions more dollars for relief programs that Democrats do not even oppose. Working families have already waited too long for Speaker Pelosi's Marie Antoinette act to stop. Let's make law. pic.twitter.com/iR7OYKuCKw

— Leader McConnell (@senatemajldr) October 17, 2020
The first measure on the list will be on additional funding for the Paycheck Protection Program, which is set for a vote on Tuesday. If passed, it would dole out more funds for small business loans, which can be forgiven if spent maintaining or quickly rehiring employees and maintaining salary levels for employees.
The second measure on the list is a $500 billion COVID relief package set for a vote Wednesday. McConnell said the stimulus bill is not a proposal which would "resolve every problem forever," but would "deliver huge amounts of help to workers and families."
The legislation would notably include funding for more federally expanded unemployment benefits for laid-off Americans, additional PPP loans, schools, coronavirus testing, contact tracing and much more. However, it's significantly lower than the $2.2 trillion dollar package Democrats are pushing and even the $1.8 trillion dollar proposal the White House is negotiating on.
As a result, it may be shot down from advancing with reports pointing to the Senate's last COVID relief package in September, which was struck down in a procedural vote 52 to 47. That bill also proposed roughly $500 billion for relief, but didn't garner support from Democrats who said it was "insufficient."
The latest bill, however, has gotten support from GOP lawmakers who have said a "skinny" stimulus bill is better to address the nation's most pressing problems, while still allowing for more packages to be passed later as needed.