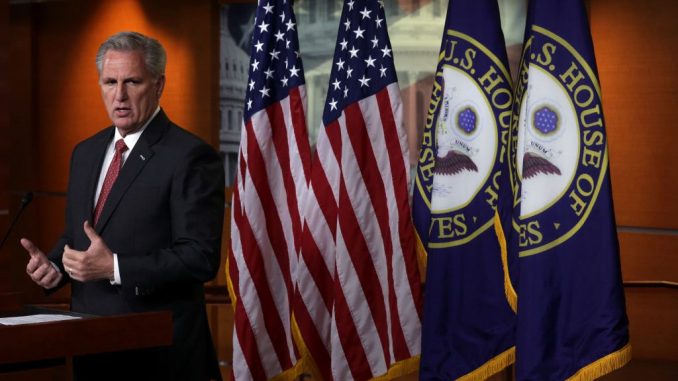 OAN Newsroom
UPDATED 3:41 PM PT – Thursday, July 1, 2021
House Minority Leader Kevin McCarthy (R-Calif.) gave his weekly press briefing to highlight the work of Republicans and the destruction of the Democrats. On Thursday, McCarthy covered a range of issues from holding China accountable to House Speaker Nancy Pelosi's (D-Calif.) Jan. 6 select committee.
He started by laying out the GOP conference's plans for the coming months and put a spotlight on the seven task forces being created. McCarthy said these groups will focus on creating policies that actually improve American lives.
The task forces include jobs and economy, Big Tech censorship data, future of America freedoms led by Rep. Jim Jordan (R-Ohio), energy and climate conservation, American security, healthy future to be headed by Rep. Devin Nunes (R-Calif.) and China accountability.
He reinforced the commitment from the Republican Party to do things completely different than the Democrats when they reclaim the majority, pointing to the devastations being seen in America today. McCarthy continued on to criticize the Democrats further for their moves to defund the police and the crisis at the southern border.
We are only 6 months into the Biden administration, and we are in the midst of crises we haven't faced in decades:
→ Highest gas prices in 7 years
→ Inflation grew at the fastest rate since 2008
→ Alarming crime spike https://t.co/Dj0d1K06JQ

— Kevin McCarthy (@GOPLeader) July 1, 2021
He also slammed Kamala Harris, the Biden administration's border czar, for spending more time in the airport than at the border during her long overdue visit.
McCarthy discredited claims that he threatened to take away Rep. Liz Cheney's (R-Wyo.) committee assignments over her agreement to join Pelosi's commission to investigate Jan. 6. He said he was shocked that Cheney would agree to serve, saying he never heard from her and suggested perhaps she is closer to the left than her own party.
When asked if he was concerned about not having control over the select committee, he said no. He then pointed to the politicization of the investigation by the left. He told reporters that there have already been probes into that day, adding if people would read the Senate's report they would find the mishandling of preparedness for the election certification day.
McCarthy ended the press briefing on a lighter note, wishing everybody a happy Independence Day weekend.