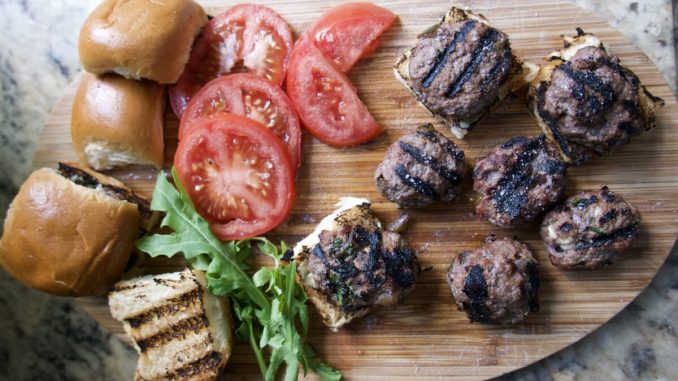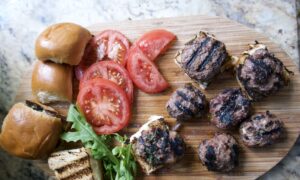 These two-bite sliders are juicy and flavorful, and definitely pack a punch! Hawaiian rolls are the perfect size; you can cut out the centers if you prefer a thinner bun. I mix ground meat with diced jalapeño peppers, parsley, and cotija cheese, then cook the patties on the grill, alongside the Hawaiian rolls. Spread the hot rolls with mustard, add the patties, and finish with your favorite toppings.
Makes 8 sliders
1 pound ground beef
2 tablespoons diced pickled jalapeños
2 tablespoons parsley, finely chopped
4 tablespoons cotija cheese, crumbled
Sea salt and freshly ground black pepper
8 Hawaiian rolls
2 tablespoons Dijon mustard
Lettuce leaves
1 Roma tomato, sliced thin
4 slices cheddar cheese, cut in half
In a bowl, gently mix together the beef with the jalapeño, parsley, and cotija cheese, and season with ground pepper.
Form patties the size of the buns you will be using (they will shrink when cooked). Make a small indentation in the center of each one, so they will stay flat while cooking. On a hot grill, cook the patties for 1 to 2 minutes per side, or until done to your liking. Season with salt.
Toast the buns on the grill until golden. Assemble the sliders with the beef patties, lettuce, tomato slices, cheese, and any garnishes and sauces you like.