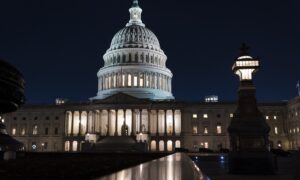 U.S. lawmakers are introducing bills in an effort to combat a surge of anti-Semitic violence targeting the Jewish community across the country.
The surge of violence was observed amid the recent conflict between Israel and the terrorist group Hamas, which have now reached a ceasefire following 11-days of fighting. Multiple incidents of anti-Semitic attacks have been reported in the United States and overseas including in the Times Square area of New York City, Los Angeles, southern Florida, Germany, and the United Kingdom, among other places.
House Minority Leader Kevin McCarthy (R-Calif.) and Rep. David Kustoff (R-Tenn.) formally introduced the "Preventing Anti-Semitic Hate Crimes Act" (pdf) on Tuesday that will require the Justice Department to facilitate an expedited review of hate crime threats targeting the Jewish community. It also directs the attorney general to issue guidance to state, local, and tribal law enforcement agencies to expand "public education campaigns aimed at raising awareness of anti-Semitic hate crimes and reaching victims."
A companion bill has been introduced in the Senate by Minority Leader Mitch McConnell (R-Ky.) and Sen. Tom Cotton (R-Ark.).
"Within days, this same sentiment of bigotry spilled into several major U.S. cities. Graphic videos showed pro-Hamas mobs intentionally target random Americans simply because they were Jewish," McCarthy said in a statement.
The Republican lawmakers have also sought to condemn the anti-Israel sentiments and rhetoric they say are being perpetrated by progressive Democratic congressmembers. Over the past several weeks, Reps. Alexandria Ocasio-Cortez (D-N.Y.), Ilhan Omar (D-Minn.), Rashida Tlaib (D-Mich.), and Ayanna Pressley (D-Mass.), a progressive group of congresswomen with a socialist agenda who have been dubbed "the Squad," made several controversial anti-Israel remarks as violence intensified between Israel and Hamas.
"These hateful attacks contradict the very essence of our nation's core principles. Yet socialist Democrats continue to endorse and promote repulsive anti-Semitic rhetoric, while Speaker Pelosi and Senator Schumer refuse to unambiguously condemn the unhinged statements from members of their own party," McCarthy added.
McConnell delivered similar remarks on the Senate floor on Tuesday night, where he characterized the rise in attacks as "despicable."
"The despicable, age-old specter of anti-Semitism continues to rear its head, even here in America," he said.
"Last week, authorities from New York to Los Angeles were investigating assaults on Jewish people. According to press reports, in New York City, one Jewish man was kicked, punched, and sprayed with chemicals by five or six men yelling anti-Semitic things. This happened right in Times Square."
The incident is currently being investigated as a hate crime.
In another attack a New York man was arrested and faces federal arson charges for attempting to set fire to a Jewish school and synagogue in Brooklyn, the Justice Department said.
A group of Republican senators has also introduced a resolution to condemn any violence against the Jewish community.
Meanwhile, several Democrat lawmakers have come out to issue statements condemning the violence, including members of "the Squad."
"I strongly condemn the rise in anti-Semitism and Islamophobia we're seeing across the country. Let me say it again: our freedom and our destinies are tied," Pressley wrote in a Twitter statement.
"There is absolutely no place for hate crimes or anti-Semitism in our city. Based on allegations and video evidence of what transpired at Sushi Fumi this week—the harassment and assault of diners, the singling out of Jews for violent attack, and the ensuing brawl that reports say resulted in a hospitalization—I support the investigation being conducted and fully expect justice to be served," Rep. Karen Bass (D-Calif.) wrote in a statement.
The House Bipartisan Task Force for Combating Antisemitism issued a joint statement in response to the rise in attacks.
"Amidst the Israel-Gaza conflict, we have witnessed an unacceptable surge in anti-Semitic incidents, including violent attacks, across the country. From New York to Los Angeles, hateful individuals have targeted the Jewish community because of their faith and identity," the House group wrote.
"As a Task Force, we will not stand by while our fellow Americans are subjected to physical, verbal, and online abuse. We are committed to combating anti-Semitism in all its forms, and we urge our colleagues and all Americans to help us eradicate anti-Semitism from our country and for law enforcement to prosecute these despicable acts to the fullest extent of the law."
It comes as President Joe Biden denounced the recent attacks in a statement on May 24.
"The recent attacks on the Jewish community are despicable, and they must stop," the president wrote on Twitter. "I condemn this hateful behavior at home and abroad—it's up to all of us to give hate no safe harbor."